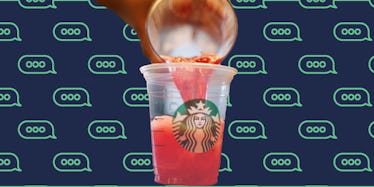 You Probably Had No Clue This Is How You're Supposed To Use Starbucks Lids
REUTERS
I know you probably read the title of this article and thought to yourself,
I KNOW EXACTLY HOW TO USE STARBUCKS LIDS -- I MAKE TINY SOMBREROS FOR MY DOLL COLLECTION WITH THEM!
But, apart from being good for "making tiny sombreros out of" (this has been a weird joke, I'm sorry), there is a secret Starbucks lid technique you've definitely been neglecting.
If you take the lid off your iced coffee... it becomes a coaster! In fact, it seems like it was designed specifically for this second purpose.
Check it out.
The underside of the lid provides the exact dimensions of the bottom of the cup, to keep it in place.
When you can use you Starbucks lid for a coaster. #LifeHacks #PinkDrink #Starbucks pic.twitter.com/fUwSnA1kBQ — Cristina (@Skidoo_152) June 5, 2016
This is a revelation. A Starbucks iced coffee is the most dewy shit in the world. When I'm holding one, I feel like I'm holding a profusely sweating, plastic animal. Coasterless, they put the coffee tables of our great nation in tremendous peril.
One Imgur user broke it down, showing how there are ridges in the lids to secure the cup in place.
This is the sort of ingenuity that makes our country great.
Also, you can use these lids as sombreros for your doll collection (I don't know if I've mentioned this already).
Citations: Metro