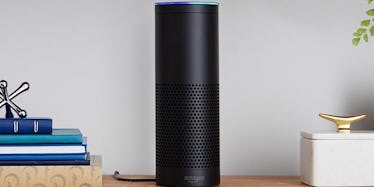 You Can Check In For Flights Using Amazon Alexa Because We Love Convenience
Amazon
Checking in for flights has never been easier, frequent travelers. Sure, online check-in has been a godsend, but now the process is completely handsfree for United Airlines passengers. The airline is the first United States-based airline to create a travel-friendly skill for Amazon Alexa, and it literally makes checking in before a flight as easy as telling Alexa to set a timer. Already have an Alexa-enabled device? Read more for a rundown on how to use Amazon Alexa to check into flights.
"Alexa, ask United to check me in for my flight."
In a press release announcing the cool new feature on Tuesday, Sept. 5, United Airlines highlighted their understanding of the need for convenience. Everything we need to know is already at our fingertips, but having the option to check into a flight and learn about trip details without using said fingertips is pure luxury.
The luxurious, time-saving Alexa skill is — as you might've guessed — available for all Alexa devices like the Amazon Echo and Amazon Echo Dot. However, there's one catch: You need to be a Mileage Plus account holder to use it.
With it, United Airlines said, you can ask questions like, "Alexa, ask United what is the status of my flight to San Francisco?" or "Alexa, ask United does United flight 869 have power outlets?" And to check into domestic flights, all it takes is one command: "Alexa, ask United to check me in for my flight."
Praveen Sharma, United's vice president of digital products and analytics, released a statement regarding the airline's motivation to introduce the skill. He said,
Every day we connect nearly 400,000 customers to business meetings, loved ones and new adventures. Introducing the new skill to check in and receive flight information with Alexa is an innovation that gives our customers extra time to prep for a business meeting, play with their children or relax as they get ready for their upcoming flight.
I mean, who would turn down extra time before a flight? Even more flight questions are available in the Alexa app, so be sure to study up if you plan to use your Amazon Alexa device like a virtual travel agent.