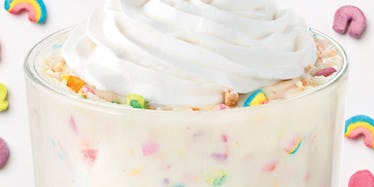 Burger King's Lucky Charms Shake Is Easy To Make With Ice Cream And Marshmallows
Burger King
Burger King, creator of kid me's favorite Shake 'em Up Fries and Chicken Fries, debuted its new nostalgia-filled menu item on June 19: the Lucky Charms Shake.
The fast food joint also has a Fruit Loop Shake, so they're basically after our cereal-loving hearts, y'all.
But here's the thing: The limited edition Lucky Charms Shake might be my favorite because it's loaded up with just the marshmallows I spent my youth dissecting from the otherwise healthy-ish breakfast.
It's basically a dream come true.
BK's website lists the ingredients as vanilla-flavored soft serve, Lucky Charms "topping" (I'm assuming it's the marshmallows), marshmallow-flavored syrup, and whipped cream.
Yup. I need it in my life.
Based on the listed ingredients, the Lucky Charms Shake sounds super easy to make.
If you have a blender, all you need to do is blend together vanilla ice cream, milk, and your favorite sugary syrup to create the base.
Then, fold in your marshmallows (preferably from your Lucky Charms box), and top the whole thing off with whipped cream.
And if you're feeling adventurous, add even more of the magically delicious topping for an extra photo-ready touch.
The real shake retails for about $3, so going the DIY route will certainly save you some cash if you plan on eating a lot of them.
But more importantly, creating your own version means you can make large batches for summer festivities.
While you're at it, why not try other cereals you used to (and probably still do) love?
I bet Cinnamon Toast Crunch, Fruity Pebbles, or even French Toast Crunch would go amazingly well with that same base recipe of vanilla ice cream, milk, and syrup.
You could even crush a handful of cereal into tiny pieces for a pretty dusted effect on top.
I'm suddenly so in the mood for the dessert.
Excuse me while I go dust off my blender.