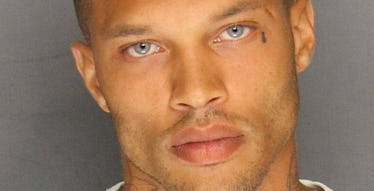 'Hot Convict' Jeremy Meeks Just Posted The Most Adorable Photo With His Son
REX/Shutterstock
Jeremy Meeks back at it again with those dreamy eyes, everyone.
But this time, he's with his little stunner of a son. The smoldering convict posted the most adorable pic on Instagram:
HE EVEN CAPTIONED IT "#MINIME." Too cute.
Meeks made the world swoon when he was first pictured in a mugshot in 2014. He was arrested in California on felony weapon charges. But let's not talk about that.
While he spent time in the big house he was offered a $30,000 modeling contract because sometimes life works out like that.
He jumped straight into his new career immediately after his release in March this year.
Since then, he's been blowing up Instagram with a string of steamy photoshoots that we can't get enough of.
Like this one:
And this moist little number:
Daaaaamn, Meeks:
OK, that's enough. You get the idea.
Bad news, though — he's taken.
And whoever said nice guys finish last? Total nonsense. This guy has everything and is killing it. *Air high-five*