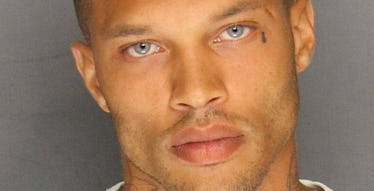 The 'Hot Convict' Who Won The Internet Just Posted His First Modeling Pic
REX/Shutterstock
Remember that extremely attractive criminal who took the sexiest mugshot of all time?!
WELL, I DO.
His name is Jeremy Meeks, and his gorgeous blue eyes and perfectly chiseled jawbone have been making headlines since his arrest in 2014.
When the Stockton, California, police department posted his mugshot on Facebook, millions of ladies commented on his attractiveness. It didn't take long for Blaze to offer him a $30,000 modeling contract. YEAH, HE'S THAT SEXY.
DAMN, is it hot in here? Someone go turn the AC on before I pass out.
I'm serious. Get that air pumping before I lose consciousness. GO!
At the beginning of March, Meeks (AKA THE HOTTEST CONVICT EVER) was finally released from prison. Shortly after, Meeks signed to manager Jim Jordan and is now living his life as a fashion model. It's crazy how things turn out.
Wait, there's more to this story. Meeks just posted his first modeling photo and he's even hotter than before.
HELLO, JEREMY MEEKS. PLEASE MARRY ME AND HAVE MY BABIES. THANKS.
I could stare into those baby blue eyes till the end of time.
Congratulations, Jeremy, on a successful start to your new life as a professional sexy person. I can't wait to follow you on Insta and comment random emojis on all the photos you upload.
Citations: Jeremy Meeks First Modeling Photo (PaperMag)