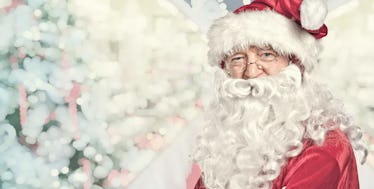 There's Actually A 'Hipster Santa' And He's In Portland, Obviously (Video)
Shutterstock
The holiday festivities have just begun at the Pioneer Place Mall in Portland, Oregon, and one new Christmas attraction is drawing quite the crowd this year.
World, meet Hipster Santa.
Hipster Santa is the 2015 version of jolly ol' Saint Nick. He has the same bushy white beard and portly glow as regular Santa, but differs in important ways.
For one, you know those half-moon glasses Santa wears? Gone, replaced by black, thick-rimmed geek specs.
Secondly, Hipster Santa has a man bun. An actual Santa-man bun. And instead of that tired red suit, Hipster Santa dons Levis and a simple knit sweater, seemingly modeled after The Dude in "The Big Lebowski."
Appearances aside, Hipster Santa performs all the same duties as regular Santa (albeit by bike, not sleigh) and will happily talk to the youngins' about his crib in that up-and-coming neighborhood in the North Pole.
As of yet, the children don't seem too thrilled with the sudden Santa upgrade, but we have a feeling they'll adjust soon -- it's all about the presents, anyway.
Check out the video below for more on Hipster Santa, and if you're in the Portland area, head on over to the Pioneer Place Mall on December 10 or 17 to chat with him about fair-trade hot chocolate and recyclable gift-wrapping paper.
Happy Holidaze!
Citations: Hipster Santa Is The Coolest Santa Youll Ever Meet (BuzzFeed)