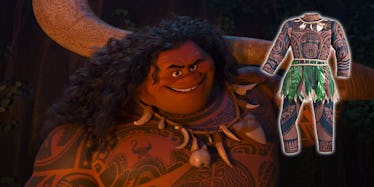 Disney's New 'Moana' Halloween Costume Is Being Slammed As Racist
Walt Disney Studios Motion Pictures
Halloween is an awesome time of the year for huge companies, like Disney, to profit off their franchises.
Unfortunately, it's also prime time for them to produce completely inappropriate costumes.
Disney's new Halloween costume, based on the character Maui, a Polynesian god voiced by Dwayne "The Rock" Johnson in "Moana," sparked outrage on Twitter, and for a good reason.
The costume features a grass skirt, a rope necklace and a brown bodysuit type of thing covered in tattoos.
But, it isn't the grass skirt, necklace or muscular padding that people are taking issue with. It's the skin tone of the fabric.
I mean, honestly, who thought that was a good idea?
Yeah, Halloween is a time to dress up. Some costumes can definitely toe the line in a sort of funny, dumb way, but this one is straight-up wrong.
The trailer for "Moana" was just released last week, and people are already pumped, so this backlash is definitely bad timing for Disney.
People on Twitter weren't quiet about how much they hated this costume and its obvious cultural appropriation.
I doubt we'll see any kid wearing this "Moana" costume come Halloween.
Maui Costume for Kids https://t.co/A5Phni36Vo This might be the creepiest thing Disney has ever done. "Wear another culture's skin!" — Mikki Kendall (@Karnythia) September 17, 2016
Couldn't the people at Disney have come up with a less offensive outfit?
@nerdypoc you can make a cute costume for Moana without doing something this horribly innapropriate Disney — Jade (@worshipHam) September 18, 2016
Some argue this costume is just a representation of the character in the movie and nothing more. Sure, that makes sense, but Maui isn't a character that Disney created. He's based on a god in a Polynesian myth.
Did Disney not consider how people of Polynesian descent would feel about this costume? Hopefully Disney will learn to be more sensitive when it comes to costumes that also represent actual cultures, not just fictional movie characters.
Citations: People are not happy about this Disney's 'Moana' Halloween costume (Mashable)