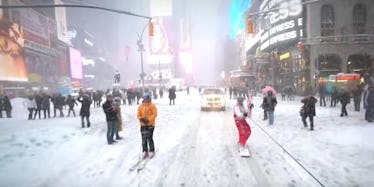 These Dudes Took Advantage Of The Blizzard And Snowboarded Through NYC (Video)
Winter Storm Jonas has finally passed, and forecasters did not overestimate the intensity of the record-breaking blizzard. Parts of West Virginia got a whopping 42 inches of snow, while more than two feet fell on the nation's capital.
For most, heavy snowfall is more of a headache than a joy, especially when it doesn't result in school or work cancellations.
But New Yorkers know how to make even the bleakest situations fun.
On Saturday, filmmaker and documentarian Casey Neistat and a pal took advantage of Manhattan's unusually empty streets to ski and snowboard through the city.
The adventurous pair strapped on their snow gear and used a pulley system to attach themselves to police cars in order to make up for the lack of slopes on the city streets.
Who says snow days are just for kids?
Watch the fun-filled footage above, and see videos from past snow-day city crawls on Neistat's YouTube channel.
Citations: Watch a Couple of Guys Use Winter Storm Jonas to Snowboard Through the Streets of NYC (Complex)