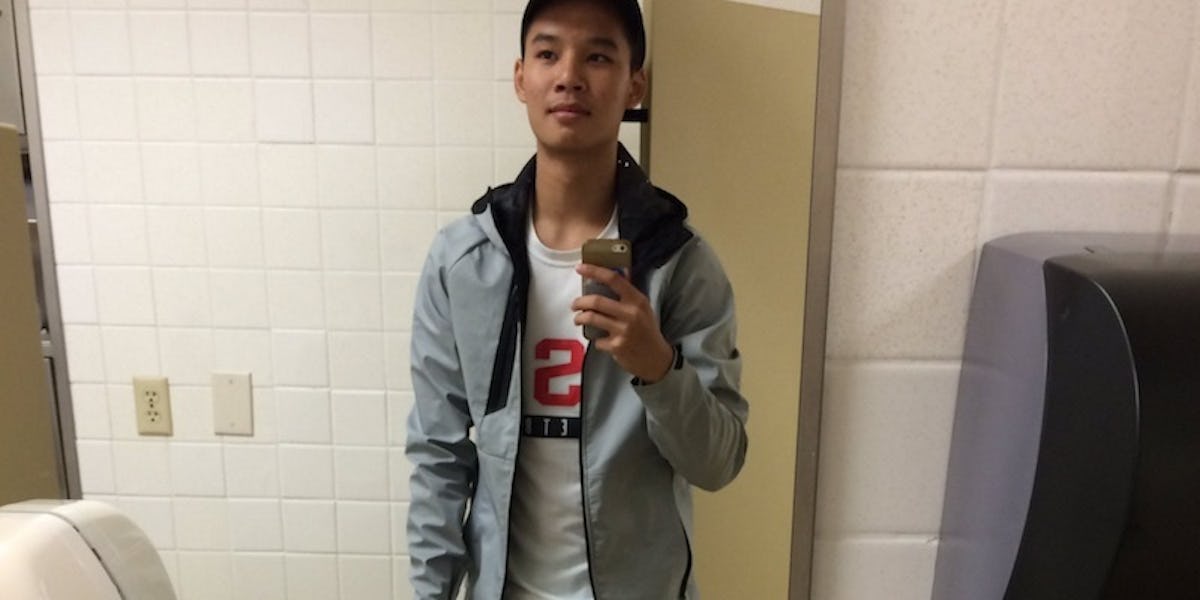 Guy Who Wore Girl's Booty Shorts So She'd Pass Dress Code Is Internet's Hero
Twitter
True friends are hard to find these days, but once you've found a keeper, never let 'em go.
Andrew Nguyen, a student at The University of Texas at Arlington, is a guy that we all wish we had at our side.
The 18-year-old recently awed the internet by swapping pants with his friend in her time of need, and we can't help but call him a hero.
His gal pal and schoolmate Diana Le had a moment of sheer panic when she realized that she needed sweatpants in order to take a quiz during her lab, so Nguyen swapped bottoms with her.
After the good ol' switcheroo, he posted a picture of his new look on Twitter while chillin' in the bathroom awaiting his friend, and his pants.
Did I mention that she was wearing booty shorts?
If this isn't real friendship, then I don't know what is.
According to Buzzfeed, Diana was wearing the booty shorts the day of her exam and realized while studying in the library with Nguyen that she wasn't allowed to wear them to class due to safety concerns during the lab.
She had to find a solution, and quick, so she asked around the library for an extra pair of pants but had no luck.
Nguyen noticed his friend's struggle and decided to switch pants with her for the duration of her quiz, giving away his sweatpants for a teal pair of booty shorts.
He totally pulled them off, though, and Twitter is going wild over their new virtual best friend.
Friendship goals.
People are literally RAVING about what a good friend Nguyen is, and they've never even met him.
This just goes to show you that true friendship is rare, and if your best guy friend offers to wear your booty shorts in a time of need, never let him go.
Citations: BuzzFeed