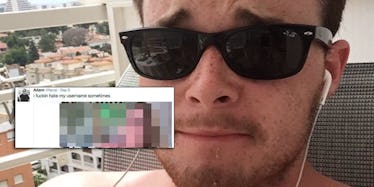 Guy Keeps Getting Accidentally Tagged In Porn On Twitter Because Of His Name
Twitter
When Adam chose his username on Twitter, he probably didn't realize how much porn he would accidentally watch. Maybe he was prepared for a few beauty salons to tag "@facial" in their skincare posts, but I doubt he was ready to be watching the other far more NSFW facial.
Or maybe he did, and is now getting tired of it.
Either way, Adam keeps being tagged in pornographic posts on Twitter all because of his username "@facial," like this lovely post, for example:
That seems really annoying because the rest of Adam's account is very PG. He posts photos of him with his dog, of his fish and chips on the beach, of chocolate milkshakes and cute puppies. No pornographic facials in sight.
Might be time to pick a new username, bud.