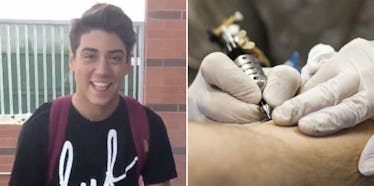 Yep, This Guy Actually Got A 'Damn, Daniel' Tattoo
Getty Images
Listen, I love that "Damn, Daniel" video.
Really, I do. I mean the way that kid says "damn" and also "Daniel" in that weird voice of his? And then the way he follows it up with a perfectly delivered, "Back at it again with the white Vans"?
It's the best. It's pure comedic gold. I'm not trying to deny that.
But now y'all are going TOO FAR with this meme stuff, ya hear? TOO FAR.
Because now this dude, whose name is also Daniel, got a REAL TATTOO of a single white Van and the words "Damn, Daniel" permanently etched into his leg.
Mhm, Daniel Howland loves that meme so much, he decided to make sure he would never forget it.
I DON'T CARE WHAT YOUR NAME IS! YOU DO NOT INFUSE INK VERSIONS OF MEMES INTO YOUR SKIN WITH A NEEDLE.
You think anyone's gonna know what the f*ck that tattoo means in a year's time? Does anyone remember that Target kid? No? EXACTLY. And he went on "Ellen," too!
But maybe I shouldn't be one to judge. After all, Daniel Howland already has a tattoo of "The Dress," and according to New York Daily News, he gets all the viral videos stamped onto his body. So I guess there's no harm in adding one more to his collection.
Still, I gotta side-eye this decision a little bit. I mean, the video is funny, yes. But it wasn't THAT funny.
Citations: Man gets 'Damn Daniel' Vans tattoo, one year after inking 'The Dress' on his leg (Daily News)