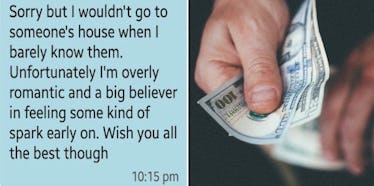 Guy Actually Asks For His Money Back After Being Denied A Second Date (Photos)
It turns out asking for refunds from dead-end dates is a thing people do now.
Lauren Crouch, a blogger responsible for No Bad Dates, Just Good Stories, recently shared a story on her Tumblr of a seemingly innocent coffee date gone awry.
After matching with a local man on Tinder, Crouch met him at a Costa Coffee shop nearby.
The pair chatted for barely a half hour before Tinder Man offered to make Crouch dinner at his apartment as he needed to get home to wait for a grocery delivery.
The blogger turned down the offer, uncomfortable with the idea of wandering into the apartment of a virtual stranger unaccompanied, and the two parted ways.
Tinder Man politely followed up with Crouch via text, and she politely indicated she was not interested in a second date.
Despite the man's insistence, Crouch stuck to her gut instinct, and Tinder Man requested a refund for time spent getting to know her for FREAKING NOTHING (UGH).
Offended, Crouch offered to donate money to charity in Tinder Man's name.
He. Was. Not. Having. It.
In her blog post, Crouch vented her frustration over the interaction. She wrote,
Yes you do decide yourself what to do with your money, and last night you decided to spend it on a coffee. I don't come with a money back guarantee. Dates aren't commodities. I actually felt angry... I am a massively big believer in women always offering to pay for dates.
Had anyone told me before now behavior like Tinder Man's was acceptable, I'd have kept better track of my date expenditures, as well as my date remuneration.
If a half hour of chitchat is worth a $5 coffee, who knows how much money exes owe me for beer, gifts and birth control.
Excuse me while I draft a few emails.
Citations: Man demands £3.50 coffee money back after date goes horribly wrong (Metro), #OCADOANDCHILL (No Bad Dates, Just Good Stories)