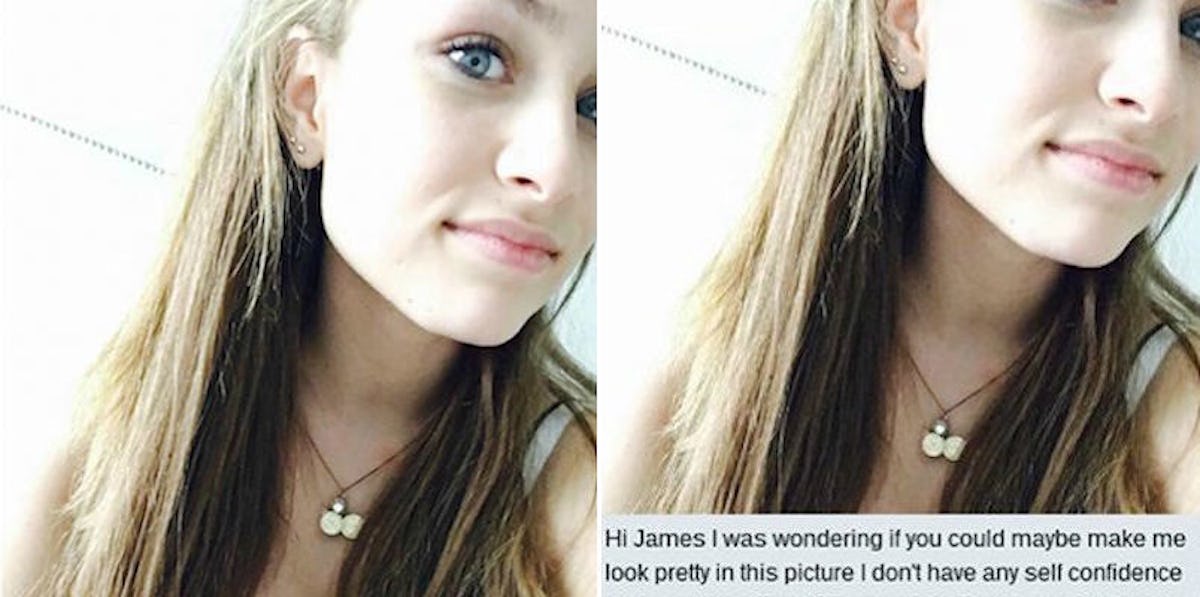 This Graphic Designer Refused To Photoshop A Woman's Pic For The Best Reason
Not all who photoshop use their powers for evil.
Graphic designer James Fridman gained popularity on Twitter when he started photoshopping people's personal photos upon request. James gets submissions asking him to fix certain photos, and he'll respond with humorous face-swap edits or something.
But when one woman suffering from an eating disorder sent him a photo asking for a "beautiful version" of herself, James had no clever joke for her.
Instead, he posted the same unedited photo and said,
Nothing and no one could ever make you prettier than you already are. Don't be influenced by the wrong standards. Don't put looks before your health. Get well.
He shared the photos with his 250,000 Twitter followers on Saturday, and since then, the tweet was favorited and retweeted over 6,000 times.
Many are applauding James for his inspiring words.
@fjamie013 it's nice how you are funny and caring at the same time — Anandita adhaulya (@Anandita_ad) April 9, 2016
@fjamie013 best answer ever! — Tobias (@RockingOrc) April 9, 2016
@fjamie013 You're a great person for telling her that and it all is true. She's pretty already. Also heath is the most important thing. — Kodey Tignor (@PKMSceptile) April 9, 2016
Nice one, James! And hopefully, all the supportive tweets are helping the mystery woman through her struggles. It's not easy to be so vulnerable and open, so major props to her as well.
Now, excuse me, James, but I'm going to need you to photoshop me married to Ryan Reynolds.
Citations: Woman who has an eating disorder asks a designer to Photoshop her image to make her 'pretty' Read more: http://www.dailymail.co.uk/femail/article-3532335/Woman-eating-disorder-asks-designer-Photoshop-image-make-pretty-refuses-heartwarming-way.html#ixzz45WbEJnKR Follow us: @MailOnline on Twitter | DailyMail on Facebook (Daily Mail)