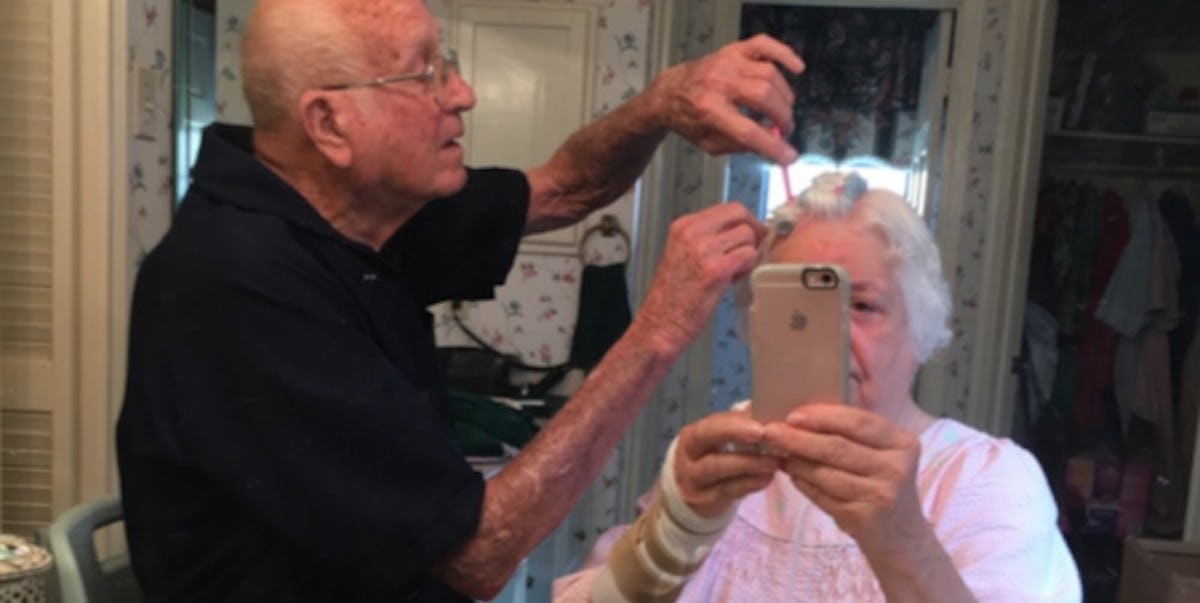 This Pic Of A Grandpa Doing His Wife's Hair Is Going Viral For Adorable Reason
Twitter
GUYS, LOVE IS REAL.
I know it's hard to believe such a thing after Brangelina's earth-shattering split last week. But we can't stay jaded forever, can we?
Trust me when I tell you romance is alive. I have cold, hard proof.
If you know me, you understand how HUGE this is. I am possibly the most jaded human on the face of the planet.
Amy Pennington, who tweets under the username @IfYouSeek_Amy__, helped enlighten us by posting photos on Sunday of an adorable moment she caught between her grandparents.
In the photos, Amy's grandpa is doing her grandma's hair. He's paying close attention to detail, and even cracking a smile.
Why? Because she was unable to do it herself, due to a recent surgery on her wrist.
SO. FREAKIN'. CUTE.
Nicholas Sparks, where are you?! We have your next hit novel.
I seriously can't handle the cuteness. The fact that Pennington's grandpa is paying such close attention to his wife makes the photo even better.
I mean, would you look at this concentration?
I can't even get a guy to take me out for a drink, let alone play with my hair.
Twitter users are raving about the couple's display of love in the hopes that they too will find romance just like this someday.
THESE ARE REAL RELATIONSHIP GOALS.
That's right, Snoop: This IS the cutest shit we've ever seen.
I guess this just goes to show that we should never settle. We must find someone who will help us put curlers in our hair.
For now, I guess I'm just going to go swipe through Tinder until I find someone half as chivalrous as this grandpa. Wish me luck.