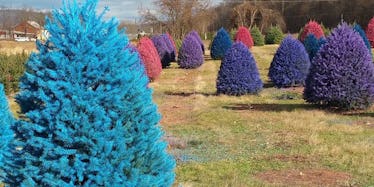 Gorgeous Pink And Purple Christmas Trees Make You Rethink Your Boring Green One
We all know the best part of the holiday season is decking out the house in festive decor.
Let's be real: Christmas just wouldn't feel the same without a dazzling tree in the corner of the living room.
If you're looking for an easy way to take your holiday spirit to the next level this year, you're in luck.
We just stumbled upon a simple way to add a pop of color to your decorations.
That's right. It appears that some farms — like Wyckoff's Christmas Tree Farm in Belvidere, New Jersey — are selling brightly-colored Christmas trees alongside their traditional green fir trees this holiday season.
I'm not kidding: Pink, purple and blue Christmas trees are now a real thing, and these stunning Douglas firs look like something straight out of a whimsical winter wonderland.
If you're wondering how the hell these farms manage to transform their dull trees into a colorful enchanted forest, it's quite simple.
The farmers spray each tree with a special fireproof, latex-based paint that gives its branches a pretty pastel appearance.
Apparently, spray painting trees is nothing new.
It turns out, this tree-painting trick, known as "tree flocking," has long been used as a way to give Christmas tree branches a frosty, snow-covered appearance.
However, more and more people are starting to use this technique as a way to spruce up their pines with all sorts of pretty pigments.
In fact, these colorful Christmas trees are so popular this year, most farms have already sold out of the nontraditional trees.
So yeah, if you want to spend your Christmas snapping pics in front of an epic purple pine tree...
you better put it on your Christmas list and pray that Santa shoves one of these bad boys down your chimney on Christmas Eve.
Citations: OMG: You Can Get REAL Purple + Pink Christmas Trees at This Tree Farm (Brit + Co.)