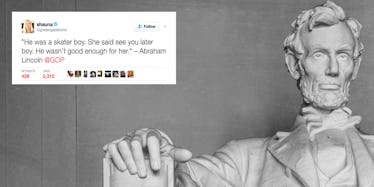 The GOP Tweeted Out A Fake Abraham Lincoln Quote And Twitter Had A Field Day
Shutterstock
If "fake news" is a thing, then so are "fake tweets," I guess.
Twitter is going berserk after the official Twitter account for the GOP tweeted out a fake Abraham Lincoln quote. To me, this comes as no surprise after Betsy DeVos' Department of Education misspelled WEB Du Bois' name.
On Saturday morning, the GOP tweeted a quote reading,
And in the end, it's not the years in your life that count. It's the life in your years.
While there's nothing wrong with the "quote" itself, there is something wrong with the fact the GOP decided to credit 16th president Abraham Lincoln as its originator.
Here's the GOP's tweet wrongly crediting Abraham Lincoln as the originator of a quote about "the life in your years."
As expected, the internet was quick to pick up on the mishap.
Actually, anyone with a stable wifi connection would able to pick up on it.
However, it wouldn't be too easy since there are quite a few people out there who have also credited Lincoln for the quote.
It turns out the quote actually came from Edward Stieglitz's book titled "The Second Forty Years." In the past, the quote was also credited to Illinois governor Adlai Stevenson, according to Mashable.
Twitter users would NOT let up.
Even the girl from "Matilda" had something to say about it.
Based on the GOP's tragic error, "#NothingMatters."
Who knew Abe was also a ghost writer for Avril Lavinge?!
If Lincoln were responsible for that quote, he had to have been responsible for these words, too...
This one would be my personal favorite...
But I think I like this one even more.
Lesson learned: Hire fact-checkers, GOP.
If you do not hire a good fact-checker, you're simply leaving the internet no choice but to do it for you!
Citations: The internet has lots of fun after the GOP tweets a fake Abraham Lincoln quote (Mashable)