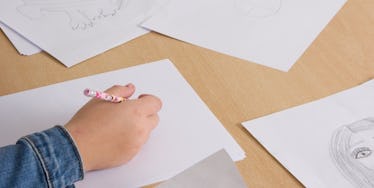 Google Replies To Girl's Cute Letter Seeking Job, So There's Hope For All Of Us
Shutterstock
If you really want a job, no matter how unqualified you might be, it never hurts to ask. Audacity goes a long way.
Take it from 7-year-old Chloe Bridgewater of Hereford, England, who recently applied for a job with Google.
Yes, Google. You read that right.
This ambitious little girl wrote a letter to Google, highlighting her affinity for computers and robots, and her desire to work at a place with bean bag chairs and go-karts.
Who can blame anyone for wanting that?
Amazingly, Google CEO Sundar Pichai took the time to respond to this adorable letter, telling Chloe to keep working hard and that he looks forward to receiving her application once she's done with school.
Andy Bridgewater, the girl's father, was extremely impressed Pichai took the time to write back, and he posted an image of the letter to LinkedIn.
His post, which has now gone viral, said,
After seeing images of Google offices with their bean bags, go karts and slides my 7 year old daughter decided to write to Google to see if they would give her a job. She lost a great deal of confidence after being knocked down by a car a couple of years ago. However, to say she is delighted after receiving this letter signed by Sundar Pichai himself is an understatement. She is now even more eager to do well at school and work for Google. Can't thank such a busy person enough to take time out to make a little girl's dream become one step closer, although not sure she's fully aware that it'll take more than riding go karts and sleeping in pods to make it with Google!
Here are the two letters:
Encouraging young people's dreams can go a long way.
All of us could clearly learn a lot from 7-year-olds.
Citations: The seven year old girl from Hereford who asked Google for a job - and got a personal response from CEO Sundar Pichai (Daily Mail)