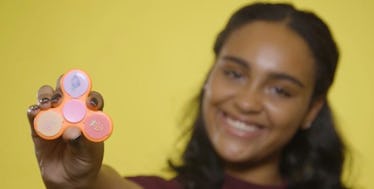 This Fidget Spinner Has Lip Gloss Inside It, And We Need One For Our Makeup Bags
GlamSpin.com
I know you're patiently waiting for Maybelline to confirm its Wonder Woman cosmetics collection, but we do have some other makeup news that'll pique your curiosity: fidget spinners with lip gloss inside of them.
Yes, these products actually exist.
If you ever find yourself in need of reapplying your lip balm while alleviating your stress (a common occurrence if you're anything like me) the GlamSpin is definitely a device you can appreciate.
The salmon-colored fidget spinner offers three flavors that are perfect for summer: grape, strawberry, and peach.
Let's face it: You definitely have both lipgloss and a fidget spinner in your purse, so why not lighten the load and grab one of these babies?
What makes the device even more tempting is its $9.99 price tag and free shipping. Normally, I'm the kind of woman who will exceed her $20 limit so she can get free shipping when spending $100 or more. Since I'm inclined to go over that minimum, I'd say this is pretty exciting news for makeup fans looking for a bargain.
And — if I'm being completely honest — this new makeup treat is too adorable to resist, so I have my wallet out as we speak.
So while your friends are getting their foundation on just right — with the help of a bra, condom, or, um... other personal items — you can bask in the glory of your lip balm's cute, lightweight, spinning container.
If you haven't gotten that new lipstick look quite right (and you don't want to look under your shirt to find out) the GlamSpin balm is a simple alternative to a bold color.
So if I haven't made a convincing argument to you just yet, why wouldn't you like to get your hands on something that not only makes you look good but feel good, too?
Happy fidgeting and glossing, friends!