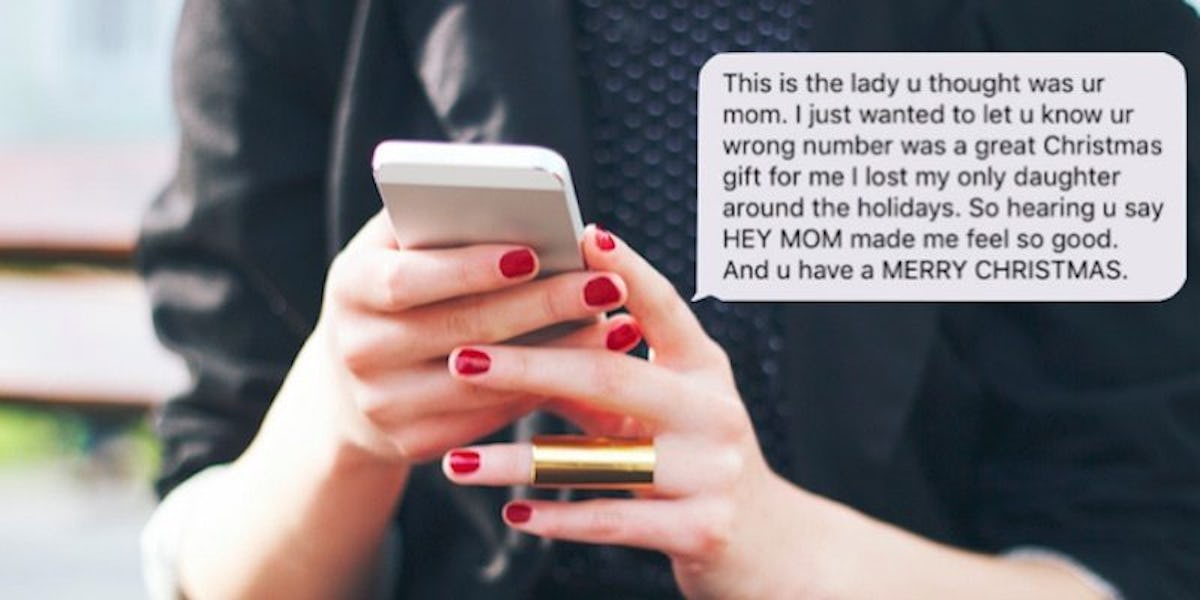 Girl's Wrong Number Call Turns Into Bittersweet Xmas Miracle For Grieving Mom
A while back, we told you about a grandma who accidentally texted Thanksgiving plans to the wrong number, then invited the stranger over to her house for dinner anyway.
If that generous (and cute AF) grandma made you cry tears of joy, you might want to brace yourself and grab a box of tissues.
We just came across another instance in which dialing the wrong number turned into a seriously heartwarming story.
Last week, Twitter user Jaileene Andrade went to call her mom and realized she dialed the wrong number when she heard an unfamiliar voice on the receiving end of the phone.
Most of the time, people seem pretty annoyed when they answer a call from a random number and find out, oh, oops, it's a complete stranger looking for Susan.
However, this wasn't the case with the woman who answered Jaileene's call.
Apparently, Jaileene accidentally dialed a number belonging to a woman who had just lost her only daughter over the holidays.
When the woman answered the unfamiliar number and heard the caller say, "Hey, Mom," Jaileene unknowingly gave this lady "a great Christmas gift."
After hanging up with Jaileene, the woman then texted her to let her know the accidental phone call had brightened up her day.
As you can imagine, this sweet text message gave Jaileene all the feels, so she decided to share her conversation with the woman on Twitter.
I'm really crying rn dude... I thought i was calling my mom :( but I had the wrong number and... pic.twitter.com/EMTidGQQwv — jaileene andrade ➰ (@jayleene_07) December 14, 2016
It turns out Jaileene forgot to redact the woman's number before posting a screen shot of her text message online, so now lots of people have been sending lovely messages to cheer this sad mom up during Christmas.
@jayleene_07 :/ when this makes you sob so you have to say something .. pic.twitter.com/r8buFET2Ai — reiggy t (@ReiganTodd) December 15, 2016
The woman also received comforting messages from other moms on Twitter, too.
@jayleene_07 pic.twitter.com/sHi6zWwKM7 — morgan (@morganbiggs) December 15, 2016
While some people have pointed out all this attention might be a bit overwhelming for the mourning mom, it turns out one Twitter user actually knows the woman IRL and said she really appreciated all of the thoughtful text messages.
@xsadcassie @JoshAldrete @jayleene_07 @JayyforJessi she is very thankful & overwhelmed I know her personally the txts are ok calls r 2 much — Mz. Jen T (@MoCityJENeral) December 15, 2016
Who knew that dialing the wrong number could turn into such a wonderful Christmas miracle?
@BRAZYBB @FIirtationship pic.twitter.com/i34Mh5kwlk — jaileene andrade ➰ (@jayleene_07) December 15, 2016
We hope these texts made the holidays a little bit more bearable for this mother.
Citations: Dialing the wrong number was the best thing this girl ever did (Metro)