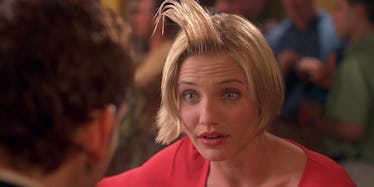 Girl Posts Pic With Semen On Her Face As 'Revenge' On BF: 'I Can Cheat Too'
20th Century Fox
If there was a warning category higher than "not safe for work," I'd have used it for this story.  Guys; this is raw.
This is cheating revenge in its grittiest form. It's also that rare occasion where a picture really does speak 1,000 words, so I'm just going to drop it in below.
But before you scroll down, I must warn you again that this is basically porn.
Spoiler alert: semen.
Zero shame. Zero chill.
You can never unsee that powerful load sprayed with maximum surface area.
It looks like she posted the picture to Facebook. Yes, public domain.
She wanted her revenge to be known far and wide.
Well, good news, girl: Now, it's global.
The photo was uploaded in Lexington, Tennessee, with the caption,
Morning' [sic]
Accompanying the man jam is a sign that reads,
Tim, I can cheat Too.
Ouch, Tim. This is next-level savagery. And it definitely makes you wonder what he did in the first place to deserve such a gnarly public callout.
I'm not one to make wild accusations, but maybe -- just maybe -- it's all connected to the guy who quit his job after filming himself having sex with the boss' daughter.
Yeah, that happened. And there's a picture to prove it.
Again, it's not safe for work. But since you've scrolled this far down in the story, you might as well turn on the porn.
Apparently, this guy knew he was going to get fired. He thought of the many ways he could leave with a bang, and then decided the best way was to literally leave with a bang.
What's more, he allegedly carried out the act in the office bathrooms and filmed it. The video is said to last about seven minutes.
Oh, and THEN, he posted the video to Facebook because love is dead and nothing is sacred.
I don't like the world we live in.