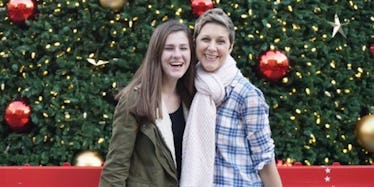 This Teen Came Out To Her Family At Disney World In The Most Amazing Way
Twitter/ginaslife3
This was no ordinary trip to Disney World for 16-year-old Gina.
The Californian girl knew she's gay for around a year and decided this vacation was the perfect time to come out to her family.
So, when she rode Splash Mountain with her mom, she made sure she sat at the back for this reason:
BOOM. Truth bomb dropped on Splash Mountain, and her family could not have been more supportive. Gina told BuzzFeed,
I am not the type of person to have a deep, sit-down conversation, so I wanted to tell them in a lighthearted and fun way. I love funny ride photos so I figured I could make the sign just in case I decided to go for it, and I did. My dad and brother said they were already 70 percent sure I was gay but my mom had no idea. But I knew they would be super accepting.
Gina's coming out ride got some big love on Twitter. I especially like Kirsten's response as she picks up on those moody girls at the front. Is that a pose or are they genuinely unhappy to be on Splashy M?
@ginaslife3 1.) YESSSS!!! What a kickass idea! Happy 4 u! 2.) WHY ARE THOSE PEOPLE LOOKIN SO DAMN GRUMPY ON SPLASH MOUNTAIN, THE FUCK — K I R S T E N (@thatspicegirl) June 20, 2016
It's been an emotional roller coaster for Gina *hold for applause* and I couldn't be happier for her.
Citations: BuzzFeed