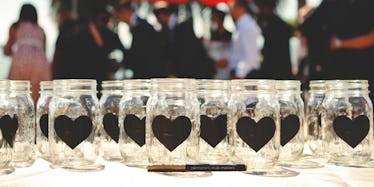 This Fried Breakfast In A Mason Jar Is Taking Things Too Far, And Twitter Agrees
Jayme Burrows
It's perfectly fine to appreciate a good fried breakfast. And if it comes with a free cocktail during brunch hours? Yep, even better. However, one Welsh restaurant has taken the English breakfast game a tad too far... and put the entire fried breakfast in a mason jar.
It's a high brow move, serving a jar of sweating fried food, and Twitter obviously has questions. Namely, "Why tho?"
The Cardiff-based restaurant with presumably high Instagram aspirations is called Munchies. Unfortunately, its signature take on Pinterest's mason jar craze is not something many are interested in munching on.
When Twitter user @doktorb (aka Líam) noticed Munchies' July 29 'gram announcing the "breakfasts in a jar," he tweeted a relatable (i.e. exactly what I was thinking), "Oh good god, no."
His tweet — dated Monday, Aug. 7 — quickly garnered traction with thousands of people liking, retweeting, and commenting their similar opinions on the weird menu item. And per Munchies' actual menu, there's even more weirdness available to order.
The restaurant has an entire section of "jars," including a "veggie one" and a "scrambled one." Plus: Munchies charges customers a refundable $2 jar deposit. While you "don't have to clean it," you're temporarily paying extra for the soggy-making vessel, which is... not ideal.
"It's like being back at uni when you run out of plates."
Except you're paying extra for the struggle.
So wrong.
How did we get here?
Picky eaters were not amused.
"It's like the morning commute for food."
Please explain.
A fork? A straw? We need answers.
All the Twitter attention didn't go unnoticed by Munchies, either. On Tuesday, Aug. 8, it followed up on Instagram with a photo of chalk board note. It reads,
If you don't want your breakfast in a jar — please don't abuse us on Twitter. Just ask for a plate!
Hey, at least there's a plate option.
After making it to Twitter Moments, the now-viral restaurant showed the internet its sense of humor when announcing its weekly "toastie special" on Wednesday, Aug. 9.
It's called "The Twitter Troll," and it's a sandwich "served in a jar and on a wooden board." LOL.