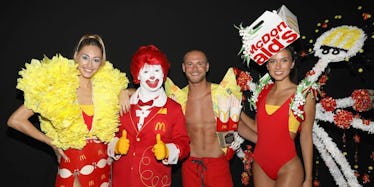 A New Fashion Line Made Of McDonald's Packaging Exists And We're Loving It
Credit: Alexander Tamargo / Stringer / Getty Images
If you think the Sriracha Burger hitting stores nationwide in August is a big deal, hold on to your Happy Meal — the catwalk is about to blow your mind.
McDonald's fashion line featured at Miami Swim Week is here to prove that each meal's packaging is actually a work of art. Who would've thought making a spring dress from a cheeseburger order is a possibility? This will make you think twice before tossing the trash.
Move over, Donatella, Ronald McDonald's in the house.
Miami International University of Art and Design students showcased their work — appropriately named McDCouture — at the swimwear event, and it's safe to say no other collection got stomachs gurgling quite like this one.
This is like the fast-food answer to Baywatch, right?
Those iconic red suits will get a run for their money from these bad boys, and customers will definitely feel like they're "lovin' it."
What better way to channel a love for your favorite order than by paying homage to it in the fashion industry? That is certainly one way to ensure your usual never goes out of style.
Though donning this fast food garb is easy enough, making the items was an entirely different process.
The student designers used more than 7,000 McDonald's sandwich wrappers, 2,800 fry boxes, 2,800 straws, 825 soft drink cups, 225 Happy Meal boxes, 2,900 sandwich boxes, 1,000 Sriracha sauce lids, and 250 to-go bags, HelloGiggles reports.
That's a lot of McDonald's.
If these styles make you want to update your own lookbook, head to McDonald's on July 26 for a chance to score free McDonald's merchandise — a Big Mac onesie, a cozy picnic blanket adorned with burgers and fries, and other items.
If you're ready for a style that would make Anna Wintour proud, look no further than your lunch order.