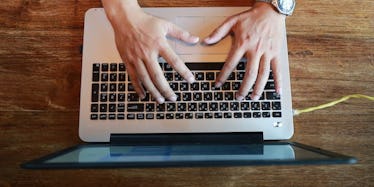 Facebook Stories Are Being Tested On Desktops Now, So Good Luck Avoiding Them
aodaodaodaod/Shutterstock
If you try avoiding Facebook stories like the plague, I have some news for you. Facebook is looking to feature stories on desktop, so good luck trying to avoid them. This news comes after Facebook noticed the success stories they had on their photo sharing app, Instagram.
The one-year-old feature has given Snapchat some stiff competition, and now Facebook wants a piece of the success pie.
TechCrunch reports that Facebook is launching stories on desktop as a test for now, which means only a few users will be able to actually see it. But if the test proves to be successful, there will be a wide release of the feature very soon.
Facebook loves stories so much, they've added it to almost all their apps including Instagram, WhatsApp, and, more recently, Facebook.
The Facebook stories feature first rolled out in early 2017, starting off in Ireland before moving on to the U.S. But Facebook users haven't really taken to the feature as quickly as Instagram users have. So maybe bringing stories to Facebook's desktop version will get people more hype about using the feature.
We will see about that. I know I definitely don't use it, but who knows, maybe Facebook can tap into some sort of niche group.
As of right now, Instagram is the king, as far as stories are concerned, even beating out Snapchat itself. Instagram recently released a press release where they shared a little insight into how often millennials use Instagram on a daily basis, and the numbers are wild.
IG users 25 and under spend more than 32 minutes a day on the app, while users over the age of 25 spend more than 24 minutes a day on the app. Instagram credits increase in time spent on the stories feature — which everyone seems to love.
Let's see if Facebook stories on desktop will have the same luck Instagram did.