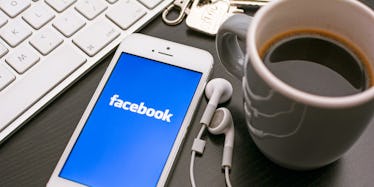 Facebook Messenger Is Testing A New Feature To Keep All Your Secrets Safe
Shutterstock
Now that Snapchat's new Memories feature allows you to save snaps and messages, how are we supposed to send secret self-destructing messages to people?
Facebook might have the answer.
David Marcus, head of Messenger at Facebook, posted today about how the company has been testing a new feature that will allow people to send sensitive information without risk of it getting saved or archived.
In his Facebook post about the Messenger update, Marcus says,
Messenger is starting to test a feature called secret conversations that will both encrypt messages end-to-end, and enable you to set a timer to control how long each message you send stays visible in the conversation on both devices (yours and your recipient's).
Even though Messenger is already a safe way to communicate, this new feature will let users have more personal conversations without worrying if other people will ever see them.
With the new feature, you can only read these secret messages on the devices you're using. So if someone hacked into your Facebook, but you're communicating via secret conversations from your phone, the person won't be able to see them.
Since it's inception in 2011, Messenger has grown to include lots of new and useful developments, like being able to call an Uber or send money to friends through the app. Messenger is finally catching up to other apps like WhatsApp with this new secret messaging feature.
Secret conversations isn't available everywhere yet, but it will begin being rolling it out later this summer.