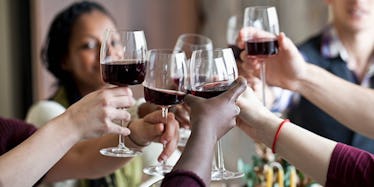 Experts Reveal Why You Should Always Pick The Cheapest Wine When Out To Eat
Jill Chen
Throughout college, I worked as a waitresses at plenty of pubs, and I'd like to think I know the ins and outs of alcohol sales.
Quite obviously, I don't know enough because wine expert Mark Oldman just outsmarted me.
The wine steward recently revealed a sneaky trick about ordering wine off the menu at your favorite restaurant, and it'll definitely change the way you order your booze.
Let's just say you won't feel so embarrassed about choosing the cheapest glass on the wine list after hearing what Oldman has to say.
According to the expert, you should always choose the cheapest wine on the menu when you're out for a drink.
I know, it sounds crazy. We've all been conditioned into think the cheapest wine is, well, the cheapest quality — but it looks like we've been fooled.
Apparently, the second and third cheapest wines on the menu at certain restaurants are the same quality as the cheapest. They're just priced higher because wine directors at bars and eateries know people often feel ashamed to choose the cheapest wine on the menu.
Therefore, they increase the price of certain wines just because they know you're going to buy them.
Oldman talks about the tricky sales technique in his book, "How to Drink Like a Billionaire," and reveals the secrets wine directors use to sell overstocked wine in pricier slots on the menu.
In the book, he says,
Knowing that it will sell swiftly. he may have slotted an overstocked bottle into the position on the list. Even worse, he may have marked up this wine more than any other, making it potentially the worst value on the list.
Cheers, my friends. It appears we've all been cheated at the wine bar.
However, Oldman assures his readers they should be drinking at respected wine bars in order for this rule to apply.
In his book, he says,
You are better served to order the cheapest wine, which diners often neglect out of fear or embarrassment and thus is often a better value. Just make sure you do so at a restaurant that cares about its wine, where even modestly prices wines are of admirable quality.
In other words, forget what everyone else at the bar thinks about your wine selection and order the cheapest on the menu.
After all, you'll be enjoying the same quality wine as them without paying the extra price.
I'm sure your bartender will be onto you after a few glasses.
Citations: A sommelier explains why you should buy the cheapest bottle on the wine list (Independent)