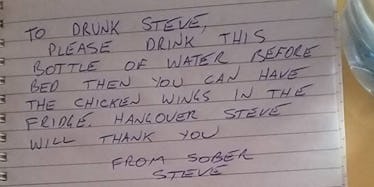 Guy Writes Helpful Note To His Drunk Self And Wakes Up To The Sassiest Reply
Twitter
Meet Steve Davidson.
He doesn't play by anyone's rules... not even his own.
So, when the 30-year-old Australian left himself a polite note to receive after a night of drinking, there was hell to pay.
He wrote to himself,
To drunk Steve, please drink this bottle of water before bed then you can have the chicken wings in the fridge. Hangover Steve will thank you. From sober Steve
This didn't go down so well with drunk Steve:
Thought you guys might like this note my friend wrote to himself before going out last night pic.twitter.com/NCbqG8W9Pj — Mama-friend (@Tarryntino) July 31, 2016
Steve told The Mirror,
I wrote the note to hopefully lessen the hangover, as I'm now on the wrong side of 30, and they're just getting worse and lasting longer. I'm quite stubborn when drunk so when I saw the note I thought, "No one tells me what I can and can't do," so I replied, but I remember I kept getting confused to which Steve I was talking to, hence the crossed out sections.
Oh, drunk Steve.