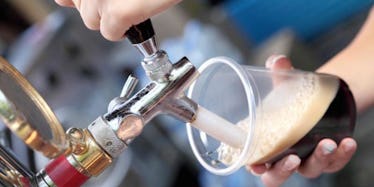 This Company Wants To Pay You $12K To Travel And Drink Beer All Summer
Getty Images
No plans this summer? You're in luck: A Florida-based company is looking for three interns to travel the world and sample beer -- and it'll pay you $12,000 to do it.
Nope, this is not a drill. Nor an early April Fool's joke. This is for real.
Tavern chain World Of Beer is currently accepting applications for "Drink It Interns," which entails little more than traveling, drinking (at beer festivals, breweries, taverns and the like) and blogging about the experience for the duration of the summer.
Although "intern" is the official job title, the position is available to anyone over 21 with full summer availability. Because the gig involves travel both international and abroad, a valid passport is also a must.
World Of Beer will pay you $12,000 for the summer's "work" and provide all food, lodging and, of course, beer -- at no cost. BEST. JOB. EVER.
To apply, either send in a minute-long video explaining why you should be picked, or, if you live near a World of Beer location, schedule an in-person interview instead of the video submission. All applications must be submitted by March 26, so, beer lovers, get to work.
Learn more here, and submit your application here.
Best of luck!
Citations: Get Paid $12,000 To Drink Beer With This 2016 Summer Internship (BuzzFeed)