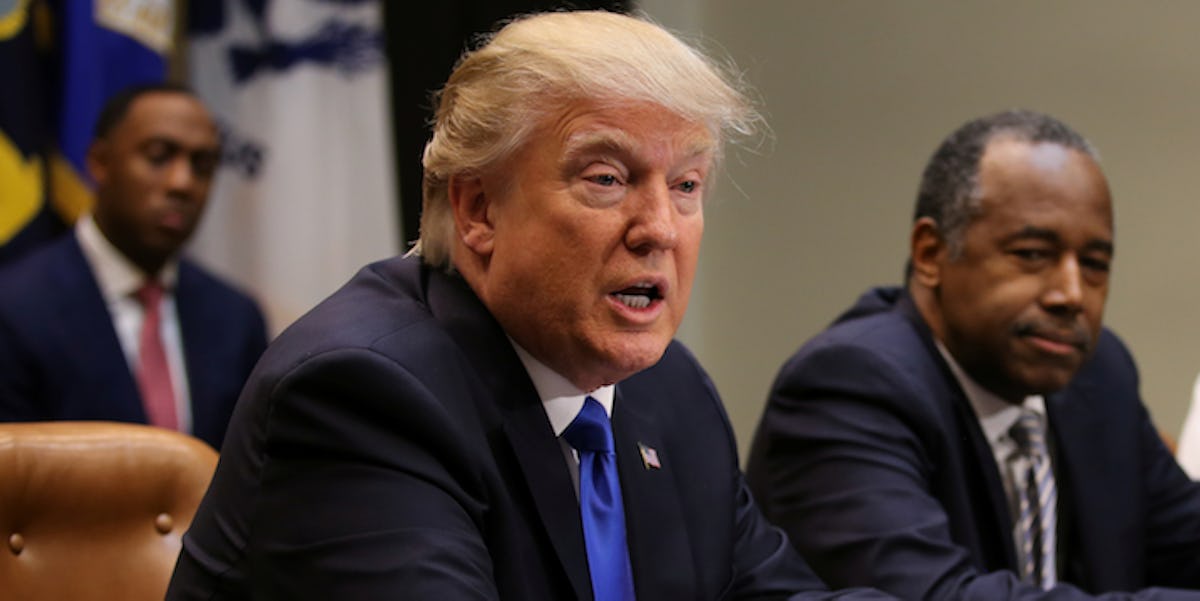 People Are Already Predicting Trump's Black History Month Will Be Disastrous
REUTERS
How is President Donald Trump going to make a positive impact during Black History Month?
That is the one question being asked as of February 1. Sure, Beyoncé kind of threw Trump a bone by announcing she's pregnant with twins.
That certainly helped keep some eyes off of Trump and how he'd be kicking off the month dedicated to honoring and celebrating the many black American leaders of the past and present.
But other than sitting down with Ohio pastor Dr. Darrell Scott to discuss exactly how the Trump administration is going to help bring peace to the streets of Chicago, what else is the 45th president really going to do to impact the black community positively (not just areas of Chicago)?
It's hard to form an educated guess when THIS is the very line he's used to address the black community throughout his presidential campaign...
Luckily, Twitter users created the hashtags to help foresee the president's potential plans during Black History Month.
Not only are they hilarious, but these predictions are honestly kind of scary because it's totally possible to imagine President Trump saying and doing some of the things discussed in these tweets.
Twitter users created the hashtags #TrumpBlackHistory and #TrumpOnBlackHistory to try and predict Trump's words and actions during Black History Month.
Users had some pretty good guesses.
It's funny, but also kind of sad no one would be surprised if Trump said or did any of these things. Have you done your research on this guy?
Malcolm X would NOT approve.
This is the President Trump version of the typical "my best friend is black" response you usually get when someone is attempting to justify racism.
Of course, there had to be a few crowd size references in there!
There's always the chance DJT could claim to be a minority himself.
What's a Trump-related trending topic without a "HUGE" reference?!
He could always disrespect the legends, too. Let's hope not.
Expect the worst.
Out of all of these great predictions, here's one I would probably expect from President Trump the most...
Now, here's to hoping POTUS doesn't actually say ANY of these things throughout Black History Month. Godspeed, America!