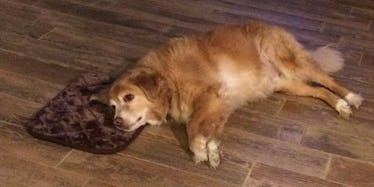 We Can All Learn Something From Grateful Dog Who's Making Most Of Tiny Bed
Twitter
If you have a pet, you'll probably agree they deserve the world (and more).
Luckily, there are magical days like National Pet Day that allow us to go above and beyond for our furry, little BFFs.
However, when one girl's mother decided to buy her dog a special gift the day before National Pet Day, she kind of screwed up.
On Monday night, a Twitter user named Pae tweeted multiple photos of her adorable golden retriever posing alongside a new dog bed.
Now, this wasn't just any ole dog bed. This particular dog bed was about four sizes too small... Thanks, mom!
Pae hilariously tweeted,
So, my mom accidentally ordered an XS dog bed, but he's still grateful...
If you've never had a chance to see what a genuinely "grateful" dog looks like, consider today your luckiest day yet.
Let me know when you find a four-legged friend more grateful than this little guy!
Behold Pae's tweet about her mom accidentally ordering her incredibly "grateful" dog an extra-small dog bed.
LOOK AT THAT FACE!
Believe it or not, this is the face of the world's most grateful dog.
It turns out Pae's dog isn't the only pup making the most out of an unfortunate situation.
Other users shared their grateful dogs, too.
Meanwhile, us humans won't stop complaining about our king-size beds not being enough.
We all need to take notes and just be #grateful.
There's a valuable lesson to be learned here, my friends...
When life (or your mom) gives you a tiny bed fit for a newborn Yorkie despite the fact you're well over 7 pounds, take selfies and make the best of it.
Oh, and there's a shortcut to being awesome at all times, too. Hint: Just live life more like your pet would... Oddly enough, it'll probably make you a better person!