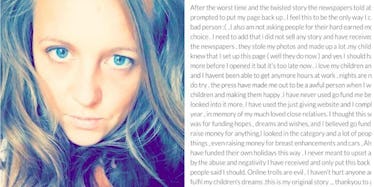 Mom Who Started GoFundMe For Disney Vacation Made An Insane Amount Of Money
GoFundMe/Facebook
A mom who started a GoFundMe to get random people to pay for a Disney vacation has made thousands of dollars.
Nikki Smith said she's been left "traumatized" by the abuse the internet unleashed on her after she launched the page earlier this year.
But following months of trolling, she's managed to raise $8,385 -- and the donations keep on coming.
The 33-year-old from Bristol, England, relaunched the page with the hope of giving her daughters, aged 10 and 12, their dream vacation. She wrote,
I was prompted to put my page back up, I feel this to be the only way I can speak out. I also am not asking people for their hard earned money, people have a choice.
Nikki got the idea after seeing other GoFundMe pages for boob jobs and new cars. She said she "never meant to upset anyone," and is just a hardworking mom trying to take her kids on vacation.
Speaking of the trolling she suffered, she continued,
I'm traumatized by the abuse and negativity I have received and only put this back up because a lot of people said I should. I won't let anyone bully me into taking it down. Online trolls are hurtful and cruel, I haven't hurt anyone and I was only trying to fulfill my children's dreams. Thank you to all who have been so kind to me.
Her original goal was $6,100. This has since been smashed, and Nikki now has more than enough to enjoy a Disney vacation with spending money to boot.
She posted an update over the weekend thanking all those who have supported her and donated. She wrote,
I have been inundated with messages of support through email and Facebook, it's crazy, I will keep everyone updated!!! Thank you again to all of my supporters, we love you.
Citations: Mum slated for crowdfunding page to take kids to Disney World rakes in £6,600 (Metro)