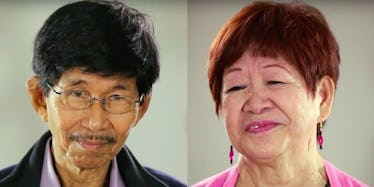 Deaf Couple Shares Their Ultimate Secret To A Happy 46-Year Marriage (Video)
Norma Cecilio
Over the past several months, The Skin Deep has interviewed hundreds of couples as part of its ongoing documentary series, "The And," in an effort to document what real love looks like.
Through telling their stories and sharing their pasts, the couples featured in the series prove love is, in fact, impossible to define and even harder to predict. Instead, it's unique to each couple, each story.
Filipino spouses Norma and Cecilio demonstrate this truth perhaps better than any couple featured thus far.
As they recount their history together (using sign language — both are deaf), they weave a love story reminiscent of Romeo and Juliet.
As their story goes, one was a poor country boy, the other a rich city girl. They had little in common, and yet found in each other true love.
Nearly half a century later, they're just as smitten with one another as the day they met.
In the end, the project's creators may never be able to define true love — but if Norma and Cecilio are any indication, they've certainly succeeded in capturing it.
Check out the video, up top, and find more from the fascinating series over at The And.
Citations: Deaf Couple Discusses Sex Kids And Falling In Love In Intimate Video (Huffington Post)