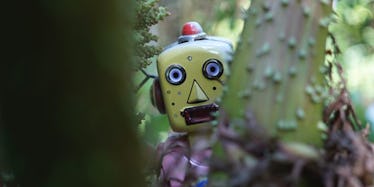 This DC Security Robot Drowned Itself In A Fountain, So That's Not A Good Sign
When it comes to our current political climate, it seems everyone's a bit on edge... even the robots.
Take for example this Washington D.C. security bot, a Knightscope K5. It seems it became so overwhelmed that it took its own life by making a beeline straight into the fountain of an office complex, apparently at the home of political communications firm GMMB.
Was it a fear of President Donald Trump's next big idea? Did it get emotional hearing about Joe Biden's post-Washington plan? Is it just missing Barack and Michelle?
Have a look at the final moments... and the workers snapping pictures of it.
What exactly set this this robot off? It's hard to tell.
Warning: This scene is graphic. Viewer discretion for young bots (and humans) is advised.
The internet, clearly in mourning, took to Twitter to crack the same joke.
This is 2017 — welcome to the jungle.
Though this isn't the first time the K5 (supposedly named Marvin, according to Twitter) made headlines, it hopefully will be the last.
While Marvin was out patrolling a parking lot a year ago, he succumbed to a few scratches when he was approached by a 41-year-old who was drunk, according to The Verge. Perhaps this intoxicated man was just teaching Marvin a lesson. After all, Marv did run over a toddler's foot earlier in 2016 -- and at 300 pounds, we're sure this wasn't a fun experience for the tiny tot.
But we do sympathize with you, Marvin. Things are certainly hectic in the nation's capital right now. A poll just revealed that President Trump has the lowest six-month approval rating of any president dating back 70 years, so perhaps Marvin felt some sort of impending doom?
Though investigations are still underway regarding Marvin's demise, we send our condolences to his robot family patrolling D.C. Stay strong... and stay away from the fountains.