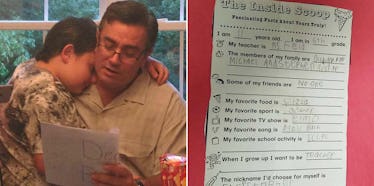 Dad Takes Pic Of Son's School Project Without Noticing Heartbreaking Detail
Facebook
A dad from New Jersey named Bob Cornelius was recently left heartbroken by something his 11-year-old son, Christopher, wrote on a school project.
He attended his son's back to school night, where he chatted with teachers and took a few photos, including one of his son's project, which required the 6th grade student to list facts about his life.
At first, Cornelius was pretty amused by some of his son's answers.
But later, when he got home, he looked at the photo again and noticed something that completely floored him.
On the section of the project that said, "Some of my friends are," his son wrote, "No one."
Cornelius expressed how upset he was about this in a Facebook post that's gone viral. As of Friday afternoon, it's been shared nearly 30,000 times.
The post said,
For those of you who don't know, my youngest son, Christopher, is on the autistic spectrum. I went to his back to school night on Thursday and took a picture of one of his projects displayed on the wall, one of many cute little cards that all the kids in his class had filled out. It asked him to list his favorite foods, sport, TV shows etc. I took the picture hurriedly, and didn't notice all the answers he had filled out at that time. It was only after I got home that something stood out upon closer review... There's no easy answer for this...at the end of the day it comes down to compassion, empathy and understanding... I guess I'm sharing this because when asked to list his friends he wrote "no one". Never have five letters cut so deep, and they weren't even directed at me....it was just an overly simplistic statement that spoke volumes.
Cornelius urged parents to talk to their kids about children with special needs.
The only solution I can come up with is to share this with you and ask that you have a conversation with your kids. Please tell them that children with special needs understand far more than we give them credit for. They notice when others exclude them. They notice when they are teased behind their back (a lot of times "behind their back" is right in front of them because they think the 'different' child doesn't understand). But mostly they are very much in tune when they are treated differently from everyone else. Trust me when I tell you this hurts them. Even if it's not obvious to you and me.
He also asked people to share the post, and they clearly listened.
Cornelius mentioned the mother who was recently left feeling very emotional after FSU football player Travis Rudolph sat and ate lunch with her son, Bo Paske.
Paske has autism and no one was sitting with him.
The mother, Leah Paske, posted about this on Facebook, which, like Cornelius' post, went viral.
It said,
A friend of mine sent this beautiful picture to me today and when I saw it with the caption "Travis Rudolph is eating lunch with your son" I replied "who is that?" He said "FSU football player", then I had tears streaming down my face. Travis Rudolph, a wide receiver at Florida State, and several other FSU players visited my sons school today. I'm not sure what exactly made this incredibly kind man share a lunch table with my son, but I'm happy to say that it will not soon be forgotten. This is one day I didn't have to worry if my sweet boy ate lunch alone, because he sat across from someone who is a hero in many eyes. Travis Rudolph thank you so much, you made this momma exceedingly happy, and have made us fans for life!
Never underestimate the impact of a small act of kindness.