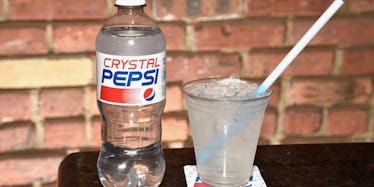 Crystal Pepsi Is Back On The Shelves And It's Feeling A Lot Like The '90s Again
Bryan Bedder/ Stringer/ Getty Images
In case you're unaware, '90s everything is pretty much all the rage right now. Whether you're rocking Lisa Frank pajamas or watching Boy Meets World reruns, you're probably reminiscing the greatest decade in the books -- and we're in full support of your obsession with nostalgia. To make 2017 even more like the '90s, Pepsi brought back one of the best sodas of our childhood: Crystal Pepsi. I know you're probably wondering, "Where can I buy Crystal Pepsi?!" (that is, if you even remember what Crystal Pepsi is). Well, my '90s friends, you can buy the clear, flavorful soda on the shelves of any major retail store starting Monday, August 14.
Bottles are available nationwide for the last time ever, so stock up.
You read that correctly: This will be the last time Crystal Pepsi will be re-released. Does that make you feel old, or what?! However, this isn't the first time Crystal Pepsi hit the shelves after being discontinued. It's been reported the nostalgic drink made a very brief comeback in 2015 and 2016, but sadly, this will be its last.
According to Pepsi's press release, soda lovers can buy a 20-ounce bottle of Crystal Pepsi for $1.79. Trust me, it's worth the pocket change. I'm sipping on a bottle right now and can almost taste the '90s in my cup.
For those of you who were too busy sipping on Kool-Aid Bursts to enjoy a taste of Crystal Pepsi while you were young, allow me to explain the flavor to you. Although the liquid is clear (unlike normal Pepsi), it tastes exactly like the soda we all know and love. It's not watered down, and it's not bland -- it's just crystal clear Pepsi, and it was designed to taste exactly like its dark-hued companions.
So, what are you waiting for?! Head out to the grocery store and pick up a bottle. A Pepsi spokesperson tells Elite Daily it'll only be available for eight weeks, so make sure you get your hands on a bottle before it's too late. Who knows, maybe they'll be pricy antiques a few years from now!