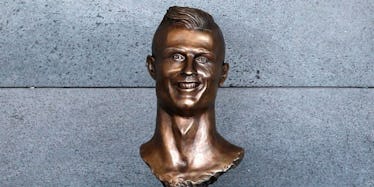 New Cristiano Ronaldo Statue Doesn't Look Like Him At All And Twitter Has Jokes
REUTERS
Cristiano Ronaldo may be a soccer star in human form, but in statue form?
In statue form, he looks like a mixture of The Joker and Stephen King's "It" (check out the new trailer for "It" right here, by the by).
WHY. SO. SERIOUS??!
The new bust is the second such statue of Ronaldo to look all kinds of awful. In case you don't remember, Cristiano had his likeness immortalized in a statue erected (all puns intended) in his city of birth, Funchal...
WITH AN ENORMOUS, BULGING PENIS.
The most recent bust was unveiled during a renaming ceremony of Portugal's Madeira International Airport.
From now on, the airport will be called Aeroporto Cristiano Ronaldo.
This is a huge honor, but the real talk of the town is this scary bust, which probably belongs in the Haunted Mansion.
Needless to say, Twitter had a field day making fun of the creepy statue.
You know, it's not so bad from this angle...
Some sculptors will probably never seen the inside of the Louvre (and for a good reason).
Say goodbye to sleep, and say hello to the newest occupant of your nightmares: this guy.
This is me when the lights come on at the club:
Now, how did Cristiano react to this crazy depiction of him? Was he super angry? Did he creepily smile about it like his statue would suggest?
Nope, he took it all in stride. He wrote on in a tweet,
Happy and honored to have my name given to the Madeira airport!
Way to be a good sport about it, Ronaldo. Then again, he's already pretty great at sports to begin with, huh?
In addition to the airport, and a museum that also bears his name, Cristiano even has a hotel named after him.
I just hope the hotel's architectural structure bears no creepy resemblance to him at all. Enough is enough, don't you think?
Citations: Cristiano Ronaldo's Latest Statue Looks Nothing Like Him — and the Internet Is Cracking Up About It (People)