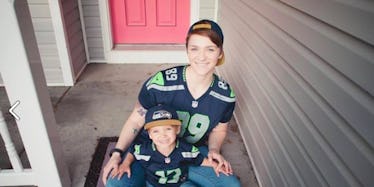 Couple's Before-And-After Divorce Pics Go Viral For Refreshing Message On Love
Facebook
Divorce can be a confusing, stressful and upsetting time for kids.
That's one thing Victoria Baldwin and Adam Dyson knew when they decided to part ways -- so they decided to put the interests of their son Bruce before anything else.
The ex-couple and their son, now 4, have continued to pose for family photos since their divorce, and Victoria explained why in an emotional Facebook post that will give you all the feels.
The post included four photos -- two from when she was married to Adam and two from after they split up.
Victoria wrote,
We are not in love, we don't always agree, we're not best friends, sometimes we don't even like one another. But you know what we are? We are forever connected because of our beautiful, smart, kind, compassionate, funny son.
After their break-up, she decided the family should have a picture taken every year -- an event that now takes some planning as Adam lives in South Carolina and Victoria is in Alaska, People reports.
The bottom two images in the Facebook post were taken a year and two years after the divorce was finalized, giving Bruce priceless memories to look back on when he's older.
Victoria added,
Adam and I are not perfect co-parents, but we made a deal when we got divorced, to put our son first and to value the richness that we each bring to his life, for different reasons. So yes, we still have a family portrait taken, and I still pay good money to have the images printed, framed, and placed in our son's bedroom; he may not grow up with parents who live in the same house. But he will grow up to see respect, kindness, empathy, compassion, perseverance, flexibility, and even sacrifice being modeled by both of his parents and he will know it is possible to fall out of love but never fall apart.
Come on. There's no way I'm the only one who's emotional after reading that?
Her heartfelt post has since gone viral, with more than 1,200 shares.
Straight up #ParentingGoals.
Citations: Divorced Parents Reunite Each Year for Family Photo: 'You Are Not Divorcing the Child' (People)