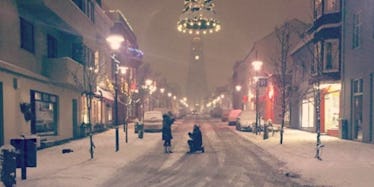 Couple Finds Perfect Pic Of Their Proposal With The Help Of The Internet
Do not dare doubt the power of the Internet. When it takes over the Earth, it will not be a benevolent ruler.
On a lighter note, British man Michael Kent planned a sweet, snowy proposal to his girlfriend, Fiona Newlands.
Kent and Newlands were visiting Iceland, and during a quiet walk around Reykjavík, Kent knelt and popped the question.
Posted by Michael John Kent on Saturday, November 28, 2015
Meanwhile, American transplant Jessica Bowe passed by on a mission to snap a picture of the snow and the festive lights.
Bowe ended up capturing something far more sentimental when she saw Kent drop and propose in the middle of the street.
In an interview with The Reykjavík Grapevine, Bowe recalled,
My intention in the first place was to capture the falling snow in the midst of the twinkling holiday lights. Then these two people entered the street, and I thought it would look lovely to have some silhouettes in the frame. So I happened to catch a shot right before the man went down on bended knee, and then of course THE moment it happened. It took a few seconds to sink in that I'd just witnessed the biggest moment in their lives.
With trembling hands, Kent entered his email into Bowe's phone, and the couple hugged her for being in the right place at the right time.
Sadly, the excitement of the ordeal that caused Kent's hands to tremble cost the couple their photo.
Bowe continued,
When I got home after taking the photo, I checked my 'sent mail' folder and noticed nothing there. I found the email with the photo stuck in my outbox, lingering with no email address. It was a bit of a panic moment. So I went to plan B: the power of the Internet.
The Reykjavík Grapevine posted the picture in an effort to help find the mystery couple, and Bowe took to Twitter and Instagram.
Kent searched for Bowe as well, posting an appeal on social media.
Dear Internet. Last night I proposed to Fiona Newlands in Iceland. A random woman took our picture as it happened (we... Posted by Michael John Kent on Saturday, November 28, 2015
In a turn of events that was in no way shocking because the Internet is astounding, Bowe and the couple were reunited.
Kent claimed to be "in awe" of the successful mission, and the ordeal transformed Bowe's perspective on Instagram activity.
She said,
I usually post Instagram pictures of cats, jogging trails, randomly parked cars, sunsets or decorative latte foam, but I think after this I need to take my photographic style in a new direction, a la Humans of Reykjavík or something.
If Bowe is planning to launch a page featuring touching photos taken around town, this is certainly a spectacular start.
Citations: The Internet Helped A Couple Track Down A Beautiful Photo Of Their Proposal (BuzzFeed), Passer-By Captures Engagement, Email Address Lost, Search Goes Viral (The Reykjavík Grapevine)