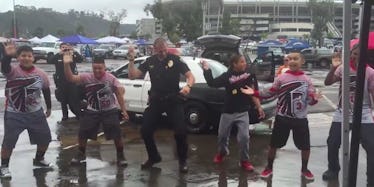 This Hot Cop Totally Crushed The Whip And Nae Nae With A Football Team (Video)
I said it once and I'll say it again: A well-timed Whip and Nae Nae can change the world.
At a time when police relations with their communities are at an all-time fragile point, it's refreshing to see some officers go above and beyond the call of duty when it comes to forging more meaningful bonds with the people they're supposed to be defending.
All one cop from San Diego needed to forge a relationship with some local youths was an empty stadium parking lot, the sound of Silentó and the power of synchronized dance.
Our officers don't let a little rain keep them from community outreach. Contrary to popular belief, we don't take dance classes in the police academy. Posted by San Diego Police Department on Wednesday, October 7, 2015
The cooperative routine between the police officer and members of the El Cajon Falcons youth football team happened while Officer John Larson was on duty during the Chargers football game in the parking lot of Qualcomm Stadium.
He told 10News,
To know the kids had that much fun and the parents enjoyed themselves as well, it definitely touched a special place in my heart.
The boys dancing with Officer Larson were in the parking lot collecting money to help their team travel to a football tournament in Las Vegas in November.
The team members are hoping the video, which has since gone fairly viral on Facebook, will help them get a boost in funds.
If you want to help them reach their goal, you can donate to their GoFundMe campaign.
Silentó is changing the world, y'all.
Citations: Watch a San Diego Cop Do the 'Whip/Nae Nae' With a Bunch of Adorable Kids (TIME), Dance-off: San Diego cop shows off his moves (10News)