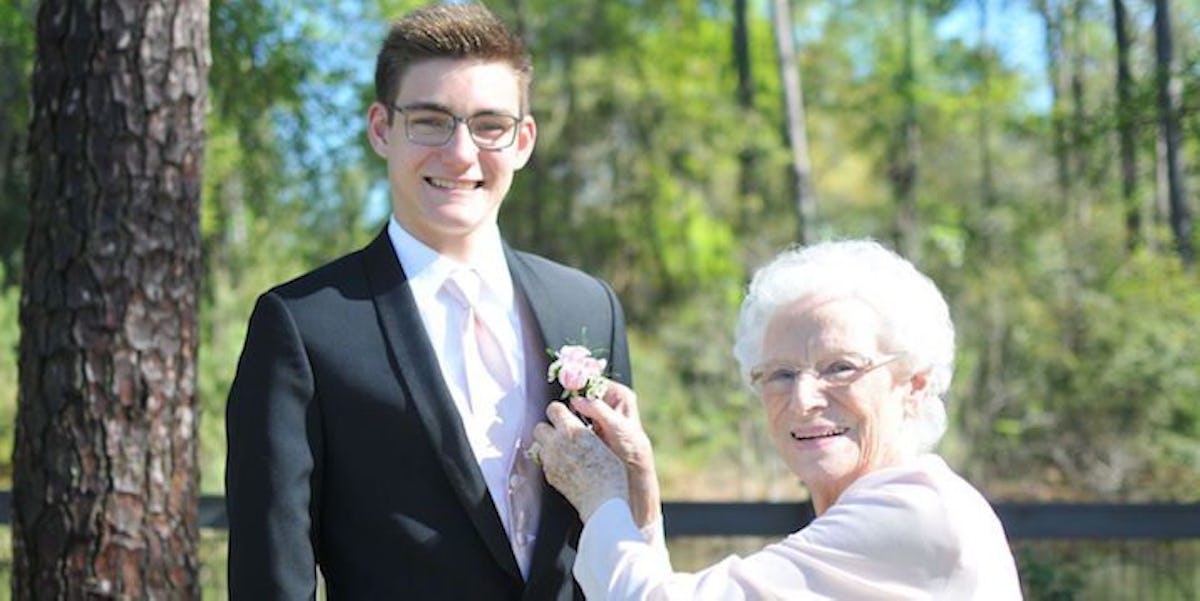 This Teen Took His Adorable 93-Year-Old Grandma To Prom And She Had The Best Time
My junior prom date was nice and all, but to be honest, my grandpa probably would've been a WAY better date.
If only I had the same foresight that Connor Campbell, a junior at Pinewood Prep in Summerville, SC, had.
Instead of asking some teenage girl who he would end up unfollowing on Facebook in two or three years, Campbell decided to take his 93-year-old grandma Jane Keane to prom.
And before you go thinking Campbell had to ask his grandma because he got rejected by his peers, let me STOP YOU RIGHT THERE.
Asking his grandma wasn't some last ditch Plan B. No, Connor had been planning on it for a while. His mom, Jaqueline Campbell, told ABC:
Connor had asked her last year to go with him this year. He promised her a year ago. He said, 'April 2017 I'll take you.' For the whole year he kept saying it.
For the big day, Keane went with a pale pink gown, but she obviously didn't pull the trigger before she got the final OK from her date:
I've always shopped at Draper's and Damon's and so I had a catalog and I flipped and I saw this pale pink long dress with a light jacket, and I thought I looked good in pink. I was a blonde in my day and I always wore soft colors. I said to Jackie, 'I think this will be great but tell Connor to look at it.' And he screamed, 'Tell her to get it.'
She got the gown and Connor,  being the great date he is, got pale pink accents on his suit to match his hot date. She recalled to ABC, "He had a pink tie and vest with his tuxedo. He's such a handsome boy."
Just look how cute they look here.
After Keane's daughter did her hair and makeup, the couple was finally ready to take prom by STORM.
Of course, Keane got her date a gorgeous boutonnière that perfectly matched her dress.
Keane even managed to drag wallflower, Connor, onto the dance floor. She said:
It was wonderful. It was really great. He had told all his friends. Every boy and girl. It was about 100 children at that dance and it was so lovely and they all came up and shook my hand and then I got Connor to dance with me. He's not a dancer, but I am.
Before you get your hopes up for round two next year, Keane warns us that probably won't happen. She laughed to ABC, "I won't go next year. I want him to find a girlfriend."
Ugh, if only I was single and, like, eight years younger.
Citations: Cutest couple: Pinewood junior escorts his grandmother to prom (The Summerville Journal Scene), High school junior takes his 93-year-old grandmother to prom (ABC)