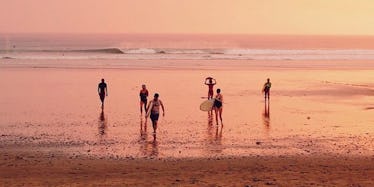 This Company Takes Instagram-Worthy Photos For Your Group On Vacation
There's a lot more to taking the perfect Instagram photo than slapping on a filter and calling it a day.
At its core, Instagram is a platform for photography, and like all other arts, photography — good photography, anyway — requires talent, knowledge and an eye for the beautiful.
That's why those looking to amp up their lackluster 'Gram feeds are turning to professional photographers to help them hone their crafts.
Take El Camino Travel, for instance. The year-old company specializes in capturing clients' vacations in a unique way, snapping artful photos perfectly prepared for sharing on social media.
Since launching the company, founders Kataline Mayorga and Marianna Jamadi racked up an impressive 20,000 followers on Instagram alone.
The company's page is a wanderlust's wet dream. Colorful photos of foreign lands dominate the feed, which boasts nearly 700 photographs so far.
Sure, hiring a company to document your vacation will cost you a pretty penny, but hey, for souvenirs and bragging rights, it's worth it.
Check out some of El Camino Travel's most picturesque posts below.
El Camino Travel is unlike any company you've ever heard of.
It's a cross between a travel agency, a tour group and a photography studio.
The company helps clients plan their trips and documents the vacations through series of beautiful social media-ready photos.
Clients pick from a series of pre-planned tours in countries like Nicaragua and Costa Rica…
...and El Camino helps create one-of-kind, adventure-filled vacations based on the clients' wants and needs.
A photographer assigned to a group takes a minimum of 20 photos per day…
...which the clients can then immediately post to their social media accounts.
The photos featured on El Camino's Instagram account are stunning…
...and showcase beautiful locations all over the world.
The company also gives back.
A percentage of profits from each trip is donated to a local entrepreneur who is "radically changing the face of their country," as per the agency's website.
Each trip costs approximately $2,500 total — a steal compared to most all-inclusive travel packages.
Head to El Camino Travel to learn more and book next year's vacation.
Citations: A Private Photographer for an Instagram Perfect Vacation Isnt As Ridiculous As It Sounds (Racked)