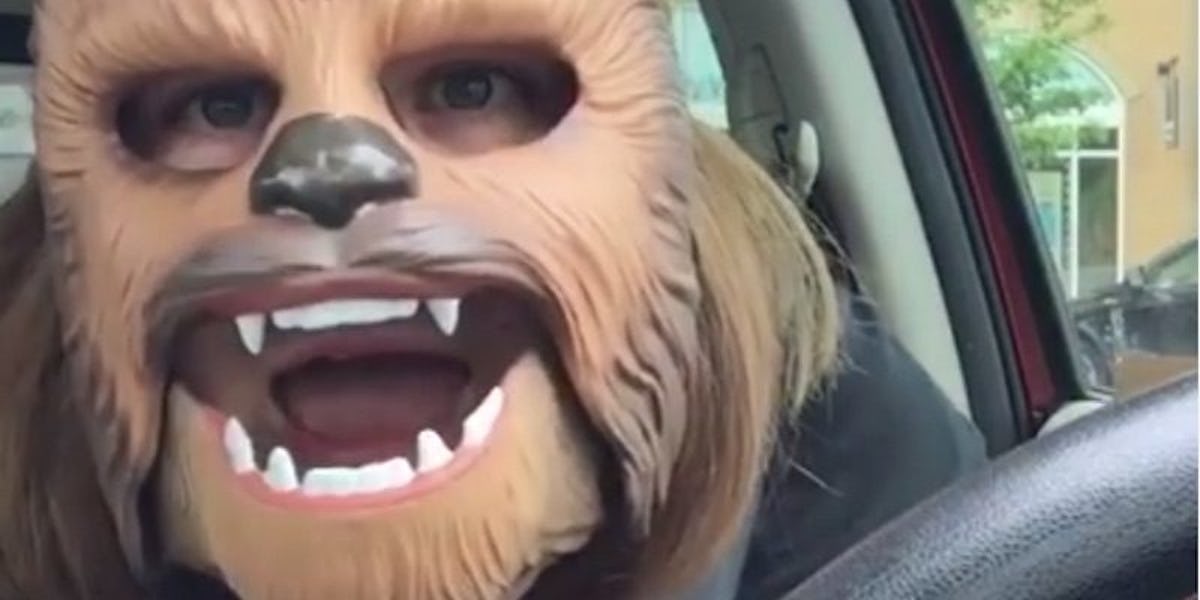 The Chewbacca Mask From That Mom's Viral Video Is Now Selling Out
Facebook/ Candace Payne
The sheeple of the Internet have chosen a new leader, and that leader is Chewbacca Mom.
Great choice, everyone. LET THE WHITE SMOKE TAKE WIND FROM THE PAPAL CHIMNEY, FOR HER HOLINESS HAS BEEN SELECTED.
After Candace Payne, aka Chewbacca Mom, posted a video to Facebook of her giddily unboxing a talking Chewbacca mask, the video garnered over 135 million views, and the Hasbro mask sold out online, ABC News reports.
Payne purchased the "Star Wars"-themed mask at Kohls on May 19, and it is currently unavailable there and at Target, Walmart and Toys "R" Us.
Chewbacca Mom fans who don't mind paying an absurd markup can buy one on Amazon from private sellers looking to capitalize on the viral hype.
On Twitter, customers and retail workers alike are marveling at the mask's success.
I just called three @Target's, two @Kohls, a @ToysRUs and @Walmart for a sold out Chewbacca mask and I'm not even a @StarWars fan — Carlos Gil (@CarlosGil83) May 21, 2016
Today at work we sold out of that Chewbacca mask the lady is wearing in that video — Ashley Hoffman (@ashleymarie0115) May 21, 2016
Conspiracy theory: the Chewbacca mask video was really an ad because they're all sold out now — Shawn Reynolds (@ShawnWTVM9) May 20, 2016
that stupid lady with the goddamn chewbacca mask has made my day hell. WE'RE SOLD OUT PLEASE STOP CALLING — snow queen☄ (@whitneyyjensen) May 20, 2016
Well this isn't surprising.... Chewbacca mask now sold out after viral video pic.twitter.com/TFXQcZ4Q6v — Amanda Lasky (@AmandaWeindel) May 20, 2016
All hail Chewbacca Mom.
Citations: Chewbacca Mask Sold Out Online After Woman's Video Goes Super Viral (ABC News)