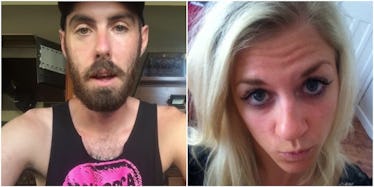 'Cheating' Guy Posts Divorce Story After Angry Ex Sells Wedding Dress On eBay
YouTube/cocobutterblog
This story about a scorned woman selling her wedding dress on eBay was way funnier with minimal context.
Now that we have the whole picture, it just seems a bit upsetting.
Samantha Wragge, 28, posted the savage advert last week, and described how the dress would have to be washed because it smells like "betrayal." It looked like she'd dealt with a cheating husband.
But after the post went global, her ex, Ross Partridge, uploaded a YouTube video to tell his side of the story.
Appearing with what looks like a new tattoo saying "#karma," Ross – who's working in Spain for the summer – said that the pair separated in January, after he fell in love with another woman.
He explained,
I moved out and subsequently moved in with the other woman. We're no longer together, and Samantha now has her new boyfriend, and we're both living our separate lives now. When we started the divorce proceedings, I was under the impression that we would be paying half each. When the divorce papers came through, it was asking me to pay for everything and yes, I did refuse. So, as it stands, the offer's still there. I'm more than happy to pay for half of the divorce.
OK, so that's the backstory. Then, he plays the nice guy, and we've totally been won over by his blunt charm.
On a personal note, Sam, if you are watching this, congratulations: This has gone so big. To go this big, worldwide... crazy. I hope that on the back of this, your blog gets a lot more recognition now because it deserves it. Your blog, like I've always said, is beautifully written.
Then, he finished with this heart-melter:
As I finish this, I just want to wish you and your boyfriend all the best for the future. You deserve all the happiness in the world because you truly are an amazing, amazing woman.
Either he's a tremendous liar or a genuine heartthrob. Whatever his story, we've definitely enjoyed all the drama.
Thanks, guys.