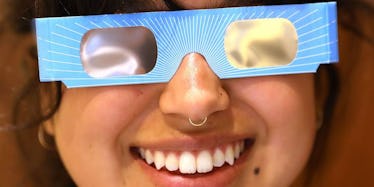 Where To Buy Last Minute Solar Eclipse Glasses, Because You Probably Didn't Yet
Spencer Platt / Staff / Getty Images
If you're anything like me, you've probably procrastinated buying a pair of solar eclipse glasses until the very last second (aka right now). You might be thinking, "No biggie! I can pick up a pair really fast anywhere I want during my lunch break!" Ha. I hate to break it to you, but it ain't that easy. Don't panic, though -- I have your back. Here's a handy guide about where to buy last minute solar eclipse glasses so you don't go blind during today's special event.
Before you run to the nearest convenient store on the hunt for a pair of shades, take a moment and assess your plans for this afternoon. Are you going to an event to watch the stellar phenomenon? If so, you might not need to go out of your way to buy a pair, because those running the event will most likely have some shades you can use while you're gazing at the sun.
However, if you're planning on watching the eclipse solo, you'll need to think fast and check out some local retailers for a pair of glasses. According to the American Astronomical Society, retailers like Best Buy, Walmart, 7-Eleven, Kroger, Lowe's, and Kirklands might have them available. However, some retailers are selling out quick, so it's best you grab a pair while you can.
For those of you who'd rather not spend money on a pair of glasses that you'll be using for about an hour or two, you can opt for a free pair from your local library. But -- I hate to break it to you -- they might be all out by now. If you're feeling lucky and still want to check in, you can find a map of libraries giving away free glasses here.
So, in conclusion, here are your options if you waited until the last second to find a pair of solar eclipse glasses: Go to an event that's giving them away, stop by your local retailers and beg the cashier for an extra pair, or stalk your local library and ask if they have any left.
Oh! You can make a pair for yourself, too.
Good luck.