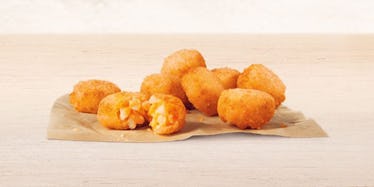 Stop Everything And Go To Burger King Because Cheesy Tots Are Back On The Menu
Burger King
One of our favorite fast food places is utilizing throwback Thursday in basically the best way possible today. Cheesy Tots are back at Burger King and there is no way I am letting you miss out on this. Oh, and this time you don't have to wait until your lunch hour to indulge because you'll find them right there on the breakfast menu.
So, what are Cheesy Tots? According to Business Wire, they are a bite-sized combination of warm potatoes and melty cheese inside with a crispy outside -- so basically comfort food perfection. You might remember that cheesy potato lovers helped bring these elevated tots back to the menu this past November, but it was only for a limited time.
Thankfully, the dark days of cheese-less tots are over, and Burger King went ahead and got totally extra (in the best way possible) with their return. Alex Macedo, the North American President of the fast food chain, listened to the fans of the cheesy fried goodness to learn that "they want them for breakfast, too." Of course they do! Eggs and french toast sticks are perfectly delicious breakfast options, but just imagine either of those plus cheesy tots. Yep, breakfast (and hangovers) will never be the same.
Cheesy Tots Are Finally Back at Burger King, and We'll Take 100 #foodie https://t.co/67uH7eLShC — Grace Bricker (@Withe1985) August 17, 2017
If you would rather save your tot time for an afternoon pick-me-up, that's cool because you can snag them anytime you want. Well, anytime in the very near future because as with all delightful treats that seem too good to be true, cheesy tots will only be available for a limited time. You can score a snack-worthy, eight-piece order of tots for a cool $1.99 -- a deal that would probably cause Napoleon Dynamite to forget to feed Tina so he could run out and get his hands on his beloved tots.
So, make Napoleon proud and go treat yourself to the cheesy potato goodness.