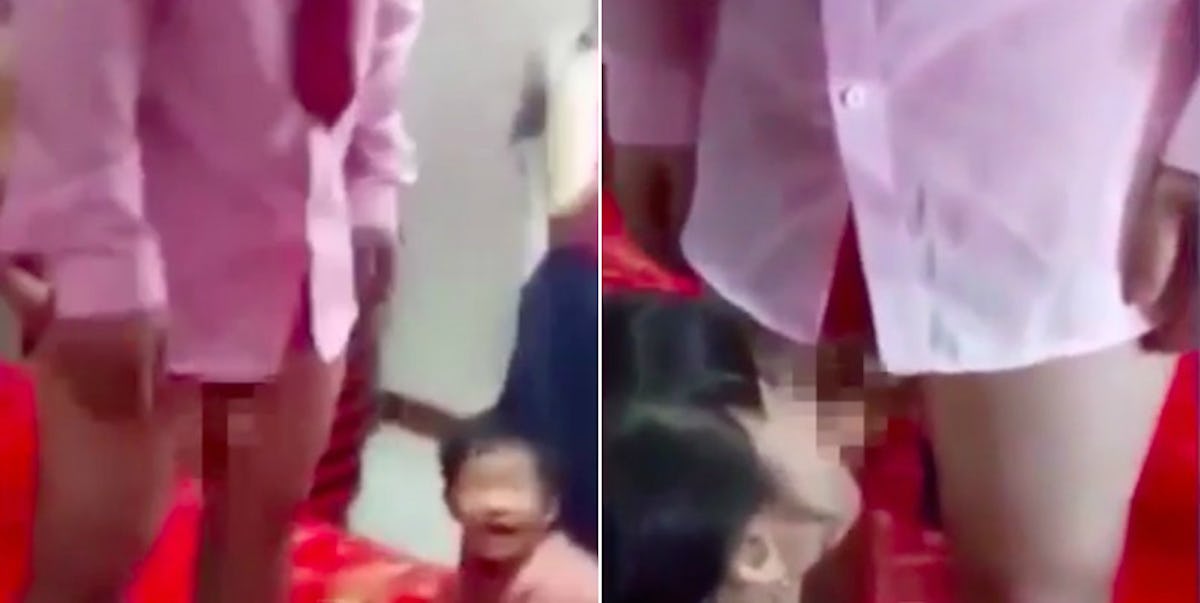 Bride Gives Groom 'Blowjob' In Front Of Entire Family In Bizarre Wedding Video
NAIJ
It's time for your mid-week blowjob update, everyone!
Actually, I just made that up. But based on the number of public blowjobs that have been documented lately, a mid-week blowjob update might as well exist.
The one I'm about to brighten up your Wednesday afternoon with is particularly different, though. Because it's not actually a blowjob. I won't ruin the surprise yet, though.
Fake or not, the video definitely fooled me.
The footage was recorded at a bizarre wedding reception that shows a bride seemingly giving her husband a "blowjob" as he stands half-naked on a table.
Here's the catch, though: The groom is holding a toy near his crotch that appears to be mimicking a penis. You know... normal wedding things.
As the woman puts her head to the toy, it spews a mysterious liquid. She backs away.
Oh, and did I forget to mention there's a CHILD SITTING NEXT TO THEM?
LOOK AT HIM.
Anyway, after she backs off the first time, the camera scans the crowd surrounding the couple. (It still includes the child, who seems to be getting a very early lesson in sex education.)
Then, she goes in for round two. The semen-like fluid squirts from the toy once again.
Can we just pause for a moment? I'd like to ask when wedding games turned to mimicking blowjobs in front of your cherished family and friends.
Where does one even buy a liquid-spewing penis replica? Is this common knowledge, or do I just live under a rock?
Heck, if I played this game at my wedding, my dad would be like, "HELL NO, AMANDA." That shit would not fly.
I guess if you're as freaky as this sex-loving family, a blowjob wedding game would be A-OK.
Although, next time, I would probably take the kid out of the room. But maybe that's just me.
Citations: NAIJ