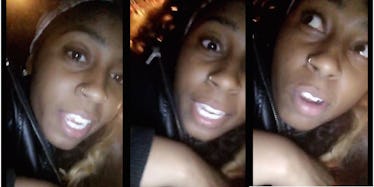 Woman Posts Epic Tale Of Catching BF Cheating While Riding In Trunk Of Car
Twitter
Zola has some competition.
If you were a fan of the stripper's wild journey through Florida, I strongly suggest you check out the woman known as Victoria (aka, La Loba) and her Twitter tale of love, adventure and catching your boyfriend cheating while hiding out in his trunk cause you KNOW that f*ckboy is getting some side strange.
It all started with maybe the most perfect Twitter video of all time.
I don't want to ruin the rest of the 90+ tweet story for you, but if you need convincing, this tweet should drive you over to her Twitter.
24. stupidity. U kno u sprung when u excuse his fuckboy fuckery as "beginners romance". u convince urself that u just going thru normal — la loba (@vickto_willy) April 19, 2016
Or this one.
Or even this gem.
Please make this movie happen already, Hollywood!!!!
Citations: Ride or die Florida woman hides in her boyfriends trunk to catch him cheating and tweets the whole thing (Daily Mail)