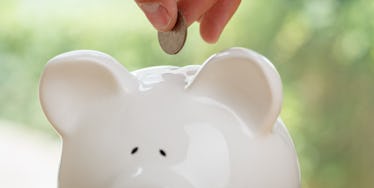 7-Year-Old Gives All His Money To Mosque Vandalized After Paris Attacks
Tara Romasanta
After a mosque in the Austin suburb of Pflugerville, Texas was found vandalized on Monday morning, a local boy donated the contents of his piggy bank to show his support for worshippers.
The Pflugerville Police Department reportedly received a call at 6:18 am on Monday about criminal activity at the local mosque, which is located in a strip mall.
When police and members of the prayer center arrived, they found feces outside the building and torn pages of the Quran strewn on the ground.
Many believe the vandalism was a hateful response to Friday's terror attacks in Paris.
A local woman named Laura Swanson stopped by the mosque with her son to offer their help cleaning up, KXAN reports.
Upon learning everything had been taken care of, Swanson's 7-year-old son, Jack, offered up $20 -- everything in his piggy bank -- as a show of solidarity for the victimized mosque members.
Faisal Naeem, a board member for the mosque, was touched by the kind gesture. He said,
It's 20 bucks, but coming from Jack collecting his pennies it's worth 20 million bucks to me and to our community. This gives me hope.
Naeem said he and his fellow worshippers definitely have "fear" about what the recent act of vandalism means for the Islamic community's safety. They will be working with law enforcement to catch those responsible and avoid a repeat of the situation.
Pflugerville police are investigating the incident as a hate crime, and anyone with information is encouraged to contact them immediately.
Citations: Vandalism reported at Pflugerville mosque (KXAN)