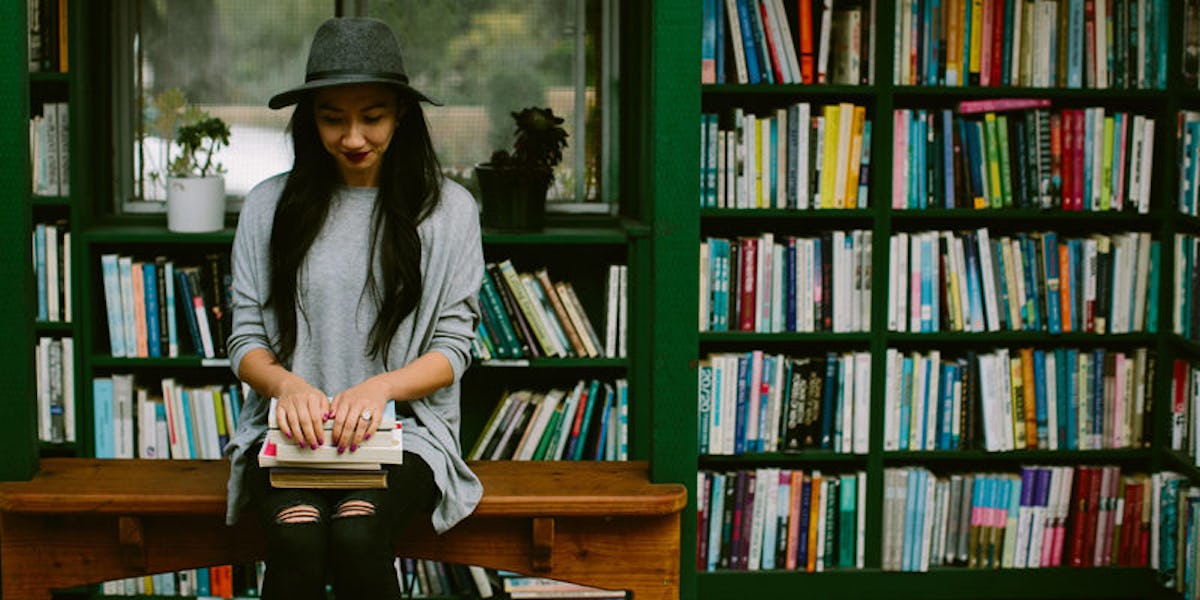 8 2016 Book Releases To Remind You This Year Wasn't A Complete Disaster
If there's one thing we can agree on this year, it's the fact that 2016 has run us through a gamut of emotions.
To put it lightly, we had a lot going on.
There was no better way to escape the chaos than to indulge in a fictional (or nonfictional) respite, right? After all, who doesn't love a good story?
If you're in the mood to be spooked, have a good giggle and more, here are the 2016 book releases you need to download on your Kindle during the holidays.
Grab your cocoa and enjoy the best books of the year!
1. If you need something to keep you on your toes: "The Woman in Cabin 10" by Ruth Ware
Although hits like "Gone Girl" and "Girl on the Train" have whet our appetites for psychological suspense, Ware's second release catapulted the UK-based mystery writer to a phenomenon in her own right.
Her eerie and encompassing tale of a woman mysteriously lost at sea will hook readers from the get-go and force them to finish Lo's story in one sitting.
Gillian Flynn and Paula Hawkins are forced to share the spotlight because Ware has without a doubt become a fixture in the genre.
2. If you need a good belly laugh: "American Housewife" by Helen Ellis
Southern charm abounds in Ellis' short stories laced with sharp, witty undertones.
Try to resist the urge to laugh out loud — let me tell you, it's no easy feat. Chances are, you're never going to look at wainscotting the same way again (you'll get why soon enough).
And if this collection leaves you eager for more, @WhatIDoAllDay is the snarky feminist account that keeps on giving long after you've turned the final page of "American Housewife."
If there's anything we desperately craved this year, it was Lauren Graham.
Our beloved Lorelai Gilmore returned to our TVs on November 25 with a four-episode revival of "Gilmore Girls," which we're still talking about and will continue to talk about until Amy Sherman-Palladino gives us more.
Whether or not you loved or hated "A Year in the Life," there's no way you're going to forego a glimpse into the real life of our favorite Stars Hollow resident who does all things haphazardly and quickly with a cup of coffee at hand.
Get a peek at Lorelai's — ahem, Lauren's — take on life … and of course, our favorite fictional Connecticut small town.
Where those girls lead, we'll follow.
4. If you want a new take on history: "The Girls" by Emma Cline
Head back to 1960s California and the dark, twisted inspiration this debut author took from Charles Manson's story.
"The Girls" follows a group of young women — one in particular — and their enigmatic leader who brings them down a frightening path.
5. If you want something sweet: "The Hating Game" by Sally Thorne
I dare you not to fall in love with Thorne's debut about a workplace rivalry that'll make your heart melt (not kidding). I loved it so much, I read it twice in one week.
This rom-com plays out like your favorite movie and will reassure you that love does exist … even when you least expect it.
We need that hope, don't we folks?
6. If you want something relatable: "Sweetbitter" by Stephanie Danler
Danler takes the "coming of age in New York" trope and seasons it with a unique theme of her own: the dining scene.
I can't think of a reason not to take a bite out of this irresistible debut.
Any millennial — culinary wizard or professional microwave user — will fall for Tess' story.
7. If you need a trip down memory lane: "Modern Lovers" By Emma Straub
The Brooklyn hipster in you will delight in the tale of a college band all grown up in Ditmas Park, especially when a blast from the past resurfaces.
With characters both young and old and locations that are every bit as alive as the people, Straub's latest gives us a lot to love.
Need I say more? Harry Potter, people, Harry Potter.
We'll never stop loving our favorite childhood fantasy series, and this book was the highlight of our summer, not going to lie.
If you're indecisive about what to read next:
I'm right there with you. So many books, so little time. Here are some other 2016 releases that are without question worth a peek:
"All the Birds in the Sky" by Charlie Jane Anders
"Replica" by Lauren Oliver
"The Girl With the Lower Back Tattoo" by Amy Schumer
"Today Will Be Different" by Maria Semple
"Eligible" by Curtis Sittenfeld
"The Nest" by Cynthia D'Aprix Sweeney
"The Underground Railroad" by Colson Whitehead