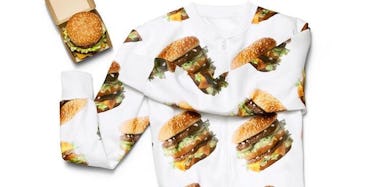 Big Mac Onesies Have Arrived And McDonald's Customers Have Never Been Happier
McDonald's
Wednesday, July 26 is the day every McDonald's connoisseur marked their calendars for: Global McDelivery Day! On this day, we celebrate the start of McDelivery -- and if you know anything about the Golden Arches, you know they celebrate things in a big way. To commemorate Global McDelivery Day, McDonald's has released the coolest line of merch, including Big Mac onesies that customers look so happy in.
The line of McDonald's merchandise includes a sweat shirt, Big Mac pillow, sweatpants, and more... but everyone seems more hyped than ever about the Big Mac onesie (I don't blame them).
"I got a Big Mac Onesie."
I also ordered McDonald's to get merch.
I don't think anyone is as excited about their Big Mac onesie as @Letsgetcramesie
Some users were upset that they ordered McDelivery, got merch, but didn't snag the coveted onesie.
Twitter user @Tarihc78 got the short end of the stick because he didn't get anything at all.
Wow, that's upsetting. I'd reach out to the proper McDonald's authorities about this.
On July 26 only, McDonald's merch comes free with any McDelivery order in participating locations while supplies last. The only downside is that you can't choose the item you want, which is why I'm stuck with a "World Famous" sweatshirt instead of the Big Mac onesie that kept me up last night. But I digress.
If you couldn't get your hands on any of the merch this time around, then hope, pray, and tweet so that McDonald's decides to put some of the items up for sale. Or maybe they can celebrate another made up holiday when free merch will be given to customers.
Until that time comes, you can just scroll through your Twitter timeline and see countless photos of people happily posing in their Big Mac onesie. You could also take matters into your own hands visit your local craft store and create your very own burger onesie. If you're really desperate, try ordering again and see what you get. That's what I'm about to do!